This is an archived article and the information in the article may be outdated. Please look at the time stamp on the story to see when it was last updated.
OVERLAND PARK, Kan. -- Area high school students are playing a prominent role with the third annual SevenDays make a ripple, change the world, that begins today and continues through Monday.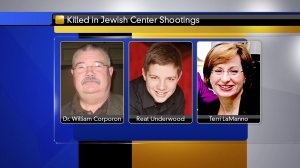 It continues the healing journey following the murders that took the lives of Dr. William L. Corporon, his grandson Reat Underwood, and Teresa Lamanno outside of Jewish facilities in April 2014. The three lost their lives at the hands of a convicted Neo-Nazi gunman.
Since SevenDays began, many scholarships and competitions have started as part of overcoming tragedy produced by hatred, bigotry and ignorance.
Tonight at The Temple, congregation B'nai Jehudah in Overland Park, youth winners for the act of kindness, songwriting competition and button artists will all be recognized and presented with award.
Tonights event is just one of many happening this week as part of SevenDays. The idea is to embrace diversity across races, religions and cultures.
Mindy Corporon lost her son and father three years ago due to hatred and violence. She has since put much of her time and energy into turning that tragedy into something positive.
"It was very important to me from the very beginning to involve youth, and I guess it's because I'm a parent, and I lost a child," said Corporon.
Every year since she lost her son and father, she's worked to promote kindness and change through SevenDays events. It includes scholarships and competitions that have been created which offer incentives for kids to participate.
"We have three separate competition, we have a songwriting competition, an essay competition, and this year was a new competition, with button art winners," Corporon added.
Today, some of those winners are being honored for their work.
"For me to just suddenly be a part of it, I felt very humbled," said one competition winner, Jonah Lee.
"I think it's an awesome message; it's a message of spreading love, connecting with other people, stomping out hate. It's all about positivity and helping others," said another winner, Gabby Gillespie.
"I think it's really amazing that everyone has been able to pull together after such a tragedy and make something really positive out of it," said Emily Fisher, another winner.
Fisher is one of the button art winners for the theme "Onward."
Each year SevenDays offers buttons reflecting each of the days' themes -- love, discover, others, connect, go, you and onward -- plus an overall button.
"I chose to do three birds. I thought it would be a good idea to symbolize not only the three lives lost, but the ability to grow from that and just celebrating their memory," Fisher explained. "They were at the center of it all, and so I think it's important to remember there are people behind it."
Each button designer will receive a $250 prize at the kickoff. Corporon said it's wonderful that something positive could come from such a senseless tragedy.
"It's incredible. I think our world is in very good hands. I think that as an adult, I'm very encouraged to see so many students already embracing diversity and embracing other faiths," Corporon said. "If we get more of them, and they multiply, which is what I think we're looking for, then we're making a difference in the world."
For more info, go to GiveSevenDays.org.