This is an archived article and the information in the article may be outdated. Please look at the time stamp on the story to see when it was last updated.
EXCELSIOR SPRINGS, Mo. — A man who formerly lived in Excelsior Springs has been accused of murdering his ex-wife in Florida and traveling to Missouri to dispose of her body. On Monday the Jacksonville Sheriff's Office announced that Kimberly Mackey's body was found in a gully in Excelsior Springs buried under rocks and her ex-husband, Jeffrey Mackey, 58, has been charged with her murder. He's accused of shooting her in the head and reportedly admitted the crime to authorities, saying that an argument led up to the fatal shooting.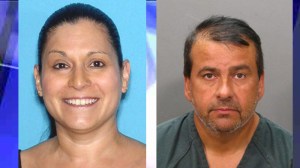 Kimberly Mackey, 48, had last been seen  on May 26 and was reported missing on May 29. JSO Assistant Chief Chris Butler said his office became aware of a possible homicide on May 28 in the same Jacksonville block where the two lived. At a news conference Butler said a neighbor spotted Jeffrey Mackey loading what they believed to be a body wrapped in a white blanket into his SUV. Butler said the Mackeys had been living in the same trailer that Jeffrey owned and Kimberly had recently moved to the area, though the two had been divorced for some time.
Jeffrey Mackey has another ex-wife named April Jean Mackey who owns property locally near the crime scene. FOX 4 spoke with her on Monday and she said he doesn't have a violent past and described him as a good father to their 14-year-old son. She also said that when he was recently in Missouri she let him stay at her home.
"This is as much a surprise to me as anyone. I can't believe that he came all the way from Florida with a body in his car and that he came to my house of all places to do that," she told FOX 4's Katie Banks. "How could he do that to me, who's always been good to him, even though we're divorced."
Detectives from the JSO interviewed Jeffrey while he was still in Missouri where he denied any wrongdoing initially. He said he was in Missouri visiting family before he returned to Florida last Friday.
Jeffrey was taken into custody on Monday after his cell phone was pinged at a Best Western in St. Augustine, Fla. according to WTEV. Online court records indicate that he will have a court appearance on Tuesday and is being held without bond.
Crime scene where Jeffrey Mackey is accused of burning evidence in Clay County. He's been charged murdering with his ex-wife, Kimberly Mackey. (Photo: Katie Banks/WDAF-TV)

Crime scene where Jeffrey Mackey is accused of burning evidence in Clay County. He's been charged murdering with his ex-wife, Kimberly Mackey. (Photo: Katie Banks/WDAF-TV)