This is an archived article and the information in the article may be outdated. Please look at the time stamp on the story to see when it was last updated.
TAUNTON, Mass. — A sheriff in Massachusetts is proposing that the inmates in his county help build the so-called 'Trump wall.'
Bristol County Sheriff Thomas Hodgson formally proposed the idea to President-elect Trump Wednesday night.
"I'm making a formal offer to President-elect Trump that inmates from Bristol county and others from across the nation through Project NICE will help build that wall," said Sheriff Hodgson.
Hodgson, a four-time sheriff, used his own inauguration to talk about illegal immigration.
"He's serious about it and we are too," said Hodgson.
The idea is not going over well in some other Massachusetts cities, considered 'sanctuary' cities for immigrants.
"All the sheriff seems to be putting forward is an inhumane treatment of enslaving inmates to perpetuate a fear and perpetuate lies of what immigration means or what undocumented immigration means in this country," said Joseph Curtatone, Somerville, Massachusetts mayor.
Massachusetts Charlie Baker was on stage when Hodgson made the suggestion, but Baker had not reacted.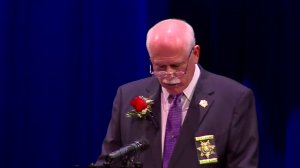 Hodgson says in addition to building the wall along the Mexican border, inmates would also be deployed for natural disasters.
"Think of how much good could come of 500 or 1000 extra hands in rebuilding a community after a disaster," said Hodgson.
Hodgson was re-elected to his 4th term in November by a landslide.