This is an archived article and the information in the article may be outdated. Please look at the time stamp on the story to see when it was last updated.
OVERLAND PARK, Kan. -- Shots were fired Friday night at Oak Park Mall, blowing out windows near the food court and leaving behind traces of blood. But so far, police are still searching for the gunmen.
Fortunately, no one was hurt in the shooting -- besides possibly one of the three people involved.
"All the sudden people started running into Nordstrom and yelling, 'Oh my God, there is someone with a gun,' 'run, and 'they are shooting!'" witness Mike Meyer said.
Meyer was shopping with his wife in Nordstrom when the chaos erupted. Meyer, separated from his wife, frantically looked for her until an employee coaxed him to safety.
It was what he saw in the back stock room that calmed his biggest fear.
"The I got in there and realized she was in there and was very relieved, very relieved," he said.
On Monday, police released photos of three men they want to speak with about what happened Friday night.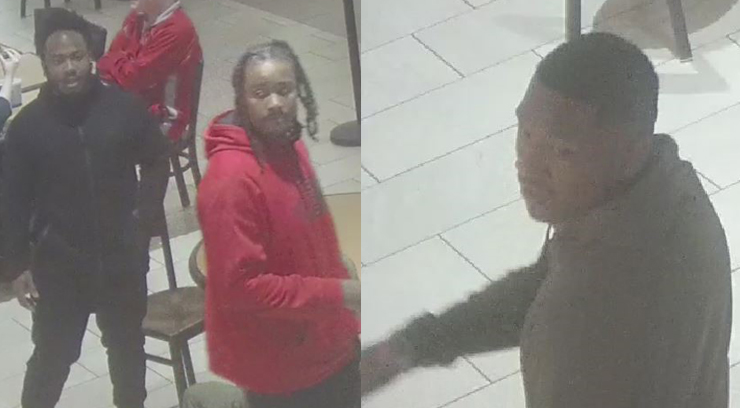 "It seems as if the two suspects approached one guy as they were exiting Oak Park Mall, and at that point, some type of altercation occurred," Overland Park Police spokesman John Lacy said.
He said surveillance video shows two men approaching another man who had a child with him outside of the mall's food court. During whatever altercation happened between the three men, the man got his child to safety and came back with a rifle.
"The person who was approached then came from behind the red pickup truck and began to shoot at two individuals who ran back inside the mall," Lacy said.
He said, essentially, the suspects became victims and a victim became a suspect. Police believe one of the men was injured in the incident. A trail of blood was found inside the mall. Lacy said they believe the suspect fled in that red pickup truck.
Lacy said police believe the shooting was an isolated incident and that the people involved knew each other.
A spokesperson for Oak Park Mall said the shopping center is in the midst of adding additional safety measures that would have been helpful Friday night.
Elizabeth Mitchell with Oak Park Mall said they've been working on installing an upgraded security system for months called Horn Strobes. It will allow the mall to alert retailers and shoppers more quickly to unsafe incidents.
"The mall will go on lockdown mode, and at the push of a button, it instantly sends a siren and flashing lights inside each of the retailer's stores to tell them we're on lockdown, close your stores and get everybody inside and get to safety," Mitchell said.
The Horn Strobes have been installed in half of the mall. The other half will be finished before the holiday season.
Police are asking anyone who recognizes the men pictured to call the TIPS Hotline at 816-474-8477.