This is an archived article and the information in the article may be outdated. Please look at the time stamp on the story to see when it was last updated.
KANSAS CITY, Mo. — The Jackson County prosecutor charged a sixth suspect,  a 19-year-old KC man, in the recent assault of a pizza delivery man in south Kansas City.
Like the five other suspects, Ketrail Collins was charged Friday with robbery in the 1st degree and armed criminal action.
The five other Kansas City residents, ages 18 to 20-year-old, have already been charged in connection with a beating of the pizza delivery man FOX 4 spoke to after the attack. Jackson County prosecutors identified the first five suspects as Mariah Farr, 19, Mikeal Farr, 19, Leann B. Howe, 20, Madison Lambson, 18, and Tanner Stone, 20. Now they say they've also connected Ketrail Collins to the attack.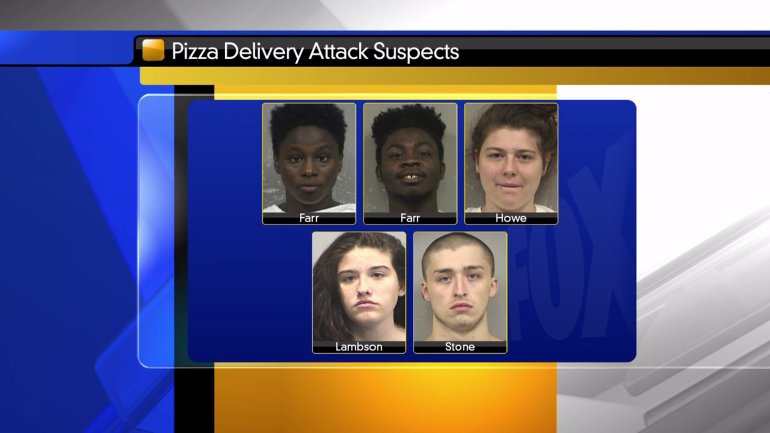 According to court records, Kansas City Police were dispatched to the area of 113th and Eastern Ave., on Sept. 12th, after someone reported an abandoned vehicle with a Domino's Pizza sign on the roof. Police determined the vehicle belonged to a victim of a robbery in the 7400 block of Food Lane. The victim was taken to a hospital with life threatening injuries. Surveillance video captured the incident, showing the attackers dragging the victim out of the car and beating him with a bat. They took his vehicle, $30 and pizza.
Prosecutors have requested a bond of $100,000 for each defendant.
"His head has got a very bad fracture, staples, jaw shattered… it shattered. He has bleeding on his brain and it is going all the way down the spinal cord," said the driver's daughter, Ashley. For his safety, FOX 4 is not identifying him by his full name.
After the attack, David walked six minutes to a gas station for help.
"He's definitely a strong guy. As he says 'I had to, I had to.' And I am thanking God that he thought that way, because if he didn't he could have laid there and died."
As her father fights for his life, Ashley is fighting to try and figure out why anyone would commit such a savage crime against her father.