This is an archived article and the information in the article may be outdated. Please look at the time stamp on the story to see when it was last updated.
LEE'S SUMMIT, Mo. — Everyone has a job to do, but at St. Michael the Archangel High School, a four-legged friend has a big responsibility.
When you see this "Aussischon" — that's half Australian Shepherd and half Bischon Frise — walking down the halls, don't be fooled. Mike the Puppy is an administrator at the Lee's Summit school.
"He's the director of love and hospitality, and he sure lives up to it," Exceptional Education Teacher Nancy McCoy said.
Mike may be new to school — and even to this world — but everyone agrees he's an expert at his job.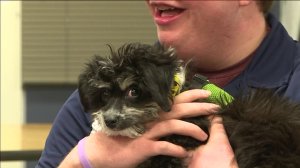 "If you're walking through the hallway and you see a puppy, I mean, there`s nothing you can do but smile or laugh, and its kind of boosted the whole moral of the school," high school senior Nate Schwaller said.
Mike's focus is on the school's SMILE Program (St. Michael Inclusive Learning Environment) for teens with exceptional needs.
"I get a lot of stress some days," SMILE Program student and freshman Cole Setter said. "It's like it goes to the ceiling sometimes, and when I go see Mike, piece by piece by piece, it melts away. And all of the sudden I don't have stress no more, and I feel happy."
"It may seem like he's just a dog, and that people just like to pet him, but he helps people get through some of their most stressful times of their teenage years," said Schwaller, who's also a SMILE Program mentor. "If they have any hardships going on at home, Mike is an escape route for them."
Even though Mike's perspective of life is a little different, everyone at St. Michael's says he puts things into focus.
"Mike doesn't care if you're popular or not popular. He loves everybody," Schwaller said.
"He's really brought this school together as a family, and that's what this school is about," McCoy said.
So Mike can rest easy at the end of the day, knowing he got the job done.
Fellow administrators say they are excited to see Mike grow up for generations of kids, and alumni are always welcome to come back and visit their friend.