This is an archived article and the information in the article may be outdated. Please look at the time stamp on the story to see when it was last updated.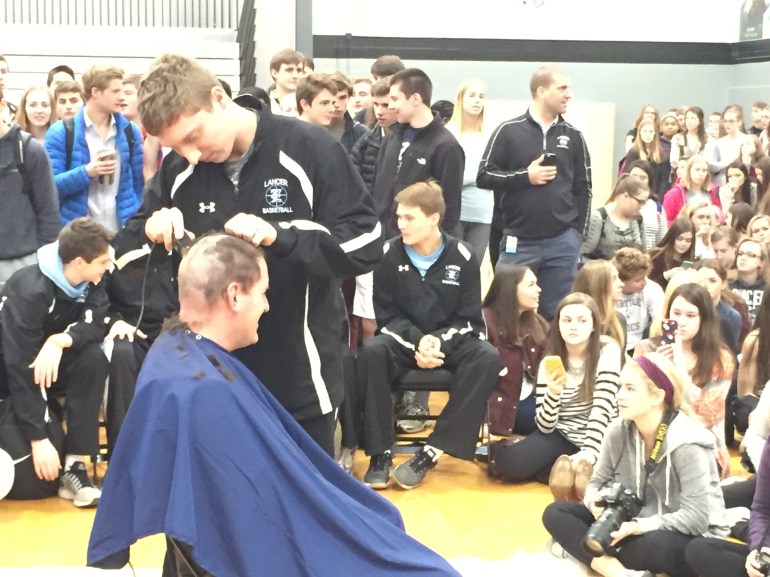 SHAWNEE MISSION, Kan. –A coach, his team and community recently came together to raise awareness for pediatric cancer and the community's generosity far surpassed the coach's expectations.
Shawnee Mission East varsity boys basketball Coach Shawn Hair shaved his head on Thursday in honor of Tyler Regier, a young man his team adopted as an all-star as part of the Pinky Swear Foundation.
"Playing for Pinky Swear" encourages students to play for a cause and use their season to raises funds for an adopted all-star.
During a pep assembly on Jan. 14 Coach Hair donated $500 to the  foundation and challenged the school to raise $10,000. The money would then be donated to the Pinky Swear Foundation, which offers grants to families fighting pediatric cancer to pay for non-medical expenses. Coach Hair said the money needed to be raised by the Shawnee Mission East vs. Rockhurst rival game.
Shawnee Mission East students, patrons and a group of 1998 Varsity Basketball Alumni managed to double Coach Hair's goal. In just 15 days, the group raised $21,416.00.
Shawnee Mission East, Northwest and West High Schools will "Play for Pinky Swear" throughout the 2015-2016 winter sports season.
[protected-iframe id="0afc2135160b86fbdd02f750c0b59667-28016812-78417489″ info="https://player.vimeo.com/video/114222192″ width="500″ height="281″ frameborder="0″ webkitallowfullscreen="" mozallowfullscreen="" allowfullscreen=""]