This is an archived article and the information in the article may be outdated. Please look at the time stamp on the story to see when it was last updated.
KANSAS CITY, Mo. - A 24-year-old Smithville native is believed to be the first female double amputee to climb the famous Manitou Incline in Colorado.
Mandy Horvath lost both of her legs in a horrific train accident in 2014. She was on a camping trip with friends, and they went to shoot pool at a bar.
"I had two beers and two shots, and after I picked up and drank my second beer, I stepped outside," she said. "I remember petting horses, and I woke up in an ambulance."
She said paramedics found her lying on a set of train tracks. She'd been hit by a coal train, and she had no legs. She believes someone spiked her drink, though she'll never know who, why or what happened during the time she was blacked out.
But she's not letting her lack of legs stop her from living her best life.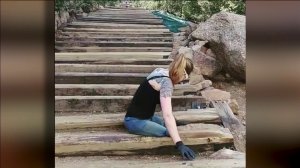 The Manitou Incline is famous for its steep 45-degree grade, rising up more than 2,000 feet in elevation in less than one mile.
"I was just thinking to myself at some points that I'm going to fall and roll down this mountain," Horvath laughed.
Horvath made headlines last fall because of her humorous Tinder profile that described her disability with disarming jokes: "Disclaimer: I don't have legs, but don't worry, I'm taking it in stride. Just roll with it okay?"
But this week, Horvath made headlines all over the world after completing the Manitou Incline on April 23.
"I think it has a lot to do with my stubbornness," Horvath said. "I'm quite feisty and stubborn and that has really propelled me through a lot of tough times and that includes the incline."
Horvath is studying biology at the University of Colorado-Colorado Springs. In addition to school and work, Horvath also dabbles in stand-up comedy.
Horvath may have to complete the Manitou Incline again to certify her feat for the Guinness Book of World Records.
"I haven't set a date for that just yet," she laughs.