This is an archived article and the information in the article may be outdated. Please look at the time stamp on the story to see when it was last updated.
INDEPENDENCE, Mo. -- A local school is trying to clean up some graffiti related to Monday's fatal accident along 291-Highway at Salisbury Road.
It is not uncommon for those mourning the loss of loved ones to create make shift memorials where wrecks happen, but the problem some people in Independence have is what surrounds the memorial.
Those in the area are complaining about the messages written on the concrete up and down the street and graffiti at a nearby school.
"This CRIME is beyond ridiculous and the clean up will take away funding that could have went to other things for all the students!" Facebook user Jamie Goldesberry said in a post on FOX 4's Facebook wall. "I understand grieving and processing but this is not an example of how that should be done!"
It is unclear why Cler-Mont Elementary School was picked. It is approximately two miles from the scene of the accident. FOX 4's Rob Collins reports there is graffiti all the way around the school property on the bricks. The school has not commented on the graffiti.
The crash happened at about 4:20 a.m., Monday at Highway 291 Salisbury Road in Independence. Police say the teens hit a pole and the vehicle overturned at Salisbury Road. The vehicle then caught on fire. Michael Smith, 17, and Anthony Dunlap, 19, both died.  Two other teenage male passengers were taken to the hospital to be treated for their injuries. Family said Smith was going to be a new father in a couple of months.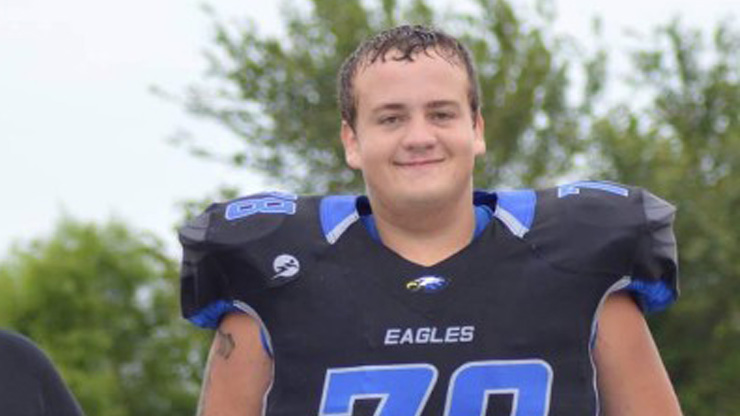 FOX 4 first reported in an exclusive report that the car of teens was pulled over an hour before the crash by an Excelsior Springs police officer. However, Dunlap, the teens' designated driver, passed the field sobriety test and breathalizer. Police say he was cooperative and told the officer he would turn on the child locks so his friends would not hang out the car windows.
Family of one of the teens in the car say the teens had left a party in Excelsior Springs and were headed to Independence.
A GoFundMe account has been set up to help pay for Smith's funeral.
Anthony Dunlap's family has also created a GoFundMe Page, saying, "Anything helps."