This is an archived article and the information in the article may be outdated. Please look at the time stamp on the story to see when it was last updated.
MERRIAM, Kan. — Watching your child take their first steps is a milestone, but for young children with disabilities, that milestone takes many years to reach.
However, there's a tool in the metro that can help, and there's about to be a lot more of them.
Two-year-old Skylar Spratley is a special kind of kid. When his mother looks at her blonde toddler with sky blue glasses, she smiles.
"He can be bribed with just about anything with bubbles," Wendy Spratley said.
Yet the toddler has a genetic disorder only 200 others on Earth have: Trisomy Nine Mosaic.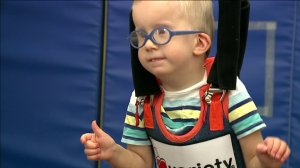 "He has a tripling of his ninth chromosome, but it's in a mosaic pattern, so it affects his chromosomes differently," Spratley said. "Some cells may be completely normal, and some cells may be highly (affected) or, you know, moderately affected."
"And for him, it's definitely developmental delays, low muscle tone — that's why he's two and a half and not walking yet," she said. "It takes a long time for his body to develop the strength to walk upright."
That's why Skylar wears a harness during his therapy at the Lee Ann Britain Center at Shawnee Mission Medical Center.
"And as you can see, he absolutely loves it," Spratley said. "It gives him the freedom to move like he's never been able to."
The harness was donated to the center by VarietyKC, a metro nonprofit focused on children with disabilities.
"It's a genius idea," Amy Milroy, director of the Lee Ann Britain Center, said of the harness, "because it allows kids to move in their entire environment."
The harness hangs from a bar that can move more than 10 feet in any direction. As Milroy spoke Tuesday, Skylar stood and toddled in a circle, then moved toward a bubble machine. As he tired, the harness allowed him to safely fall to the floor.
"The freedom of movement," Milroy said, "the impact it has on their social environment is huge. Because with being able to walk up to a sand table and play with their peers, they are going to gain skills from their communication, their social skills, that they wouldn't have been able to gain without that."
The harness, both Milroy and Spratley said, allows Skylar to exercise both his muscles and independence.
But the center only has one harness, meaning only one child — even one as special as Skylar — can use it at a time.
But that's about to change.
Shawnee Mission Medical Center is building a new facility, the B.E. Smith Family Center, at 75th and Grandview. It will be just east of the current Lee Ann Britain Center.
"What you're seeing with Skylar, it will be 10 times bigger," his mother said, "and it will be available to more children than just one at a time, so we're really excited."
Shawnee Mission Medical said the new center will have two therapy pools, extra large changing areas for children with disabilities, and multiple rooms equipped with harnesses.
All to give more kids like Skylar more opportunities to be the best kid they can be.
"It does impact change and just that confidence that kids have," Milroy said. "Like I can move. I can do this. It's pretty awesome."
The new B.E. Smith Family Center will open to children next May. And by then, Shawnee Mission Medical Center will have a new name. It will be known as AdventHealth Shawnee Mission.