This is an archived article and the information in the article may be outdated. Please look at the time stamp on the story to see when it was last updated.
LENEXA, Kan. — Police are at the scene of a shooting that took place at a Lenexa Costco on Sunday morning.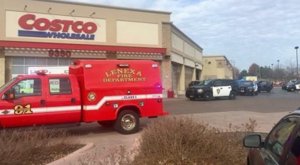 Reports came in around 11:45 a.m. of an armed subject at the Lenexa Costco store on 95th Street.
Police said a man entered the store brandishing a weapon. An off-duty officer who just happened to be at the store at the time shot the suspect. That suspect has died.
Police said no one else was injured. Some shoppers at the store when the shooting happened had to be treated for mild ailments such as panic attacks.
The Kansas City, Kansas Police Department confirmed later Sunday that the officer was one of theirs. The officer's identity has not yet been released.
The suspect's identity has not yet been released.
The store was evacuated and a heavy police presence was on scene for hours. The store is closed for the day.
The investigation is ongoing.