This is an archived article and the information in the article may be outdated. Please look at the time stamp on the story to see when it was last updated.
KANSAS CITY, Mo. -- Supporters of the historic jazz district at 18th and Vine are now requesting $18 million for improvements.
Initially supporters asked for $7 million to give the area a face lift, but after a committee met on Wednesday, the request more than doubled to around $18-million - due to additional plans that include the construction of a new surface parking lot.
The money would also pay to build new headquarters for the Kansas City Friends of Alvin Ailey; preserve the Boone Theater façade; install a café inside the American Jazz Museum along with fixing up some exhibit space; build a fountain and plaza area at the west end of the district; tear down a couple eyesore buildings on the strip; and renovate some floors of the Buck O'Neil Education and Research Center, currently under construction.
Opponents to this project point out that $18-million is a lot of taxpayer money to spend on a district that's already received a lot of city financing.
The city has spent more than $70-million on 18th and Vine over the past 25-years, renovating buildings, adding museums, building apartments and wooing businesses to move here.
And yet this area still struggles to attract a lot of traffic.
Supporters, though, believe this investment is necessary to continue to preserve an important part of Kansas City's history.
City Council member Jermaine Reed sent FOX 4 a statement about the proposal: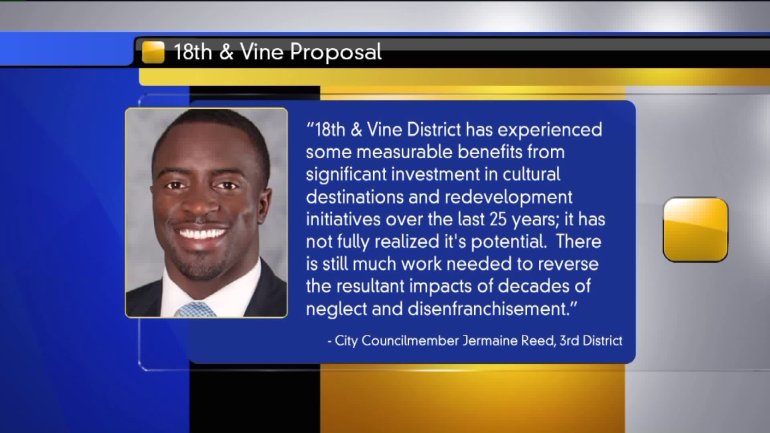 The measure is expected to be introduced to the City Council Thursday.
"$18 million is nothing to sneeze at," Bob Kendrick with the Negro Leagues Baseball Museum said. "But when you learn that Baltimore is about to invest $700 million in its city's urban infrastructure, all of the sudden it becomes relative. So we understand that these are potentially taxpayer dollars, and everybody wants to be a good steward of tax payers money. But I hope people understand with these kinds of enhancements, it's only going to make our city better."