This is an archived article and the information in the article may be outdated. Please look at the time stamp on the story to see when it was last updated.
KANSAS CITY, Kan. — One person was killed, and seven others were injured following a shooting at a business in Kansas City, Kansas.
The Horseless Carriage, located near 16th and Minnesota, is a used car dealership. On Saturday evening, the business hosted a rave featuring local rapper Lyndale, according to a flier posted online. Investigators said a disturbance occurred and eight people inside were shot; a man in his twenties was killed.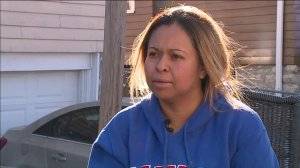 They started screaming and running everywhere, "said Valeria Adame, who lives behind the business. "They were running to the gas station, around the house and jumping the fences. It was a lot."
Another neighbor, who was not at home at the time of the shooting, told FOX4 there are always parties at the business.
"That dealership is connected to that bigger building," said Rocio Zambrano pointing to the Horseless Carriage. "They have parties there almost every weekend."
One victim, who only wanted to be identified by her first name, Dareena, attended the rave with her cousins. She told her mom, Chante Harris, there was about 200 kids inside and believes the shooting stemmed from the popping of a balloon.
"The balloon popped and then the next thing they heard was gunfire," said Harris.
Dareena, who is a cancer survivor and amputee, was shot five times: three times in her left leg and twice in her right leg.
"She told me she had to crawl her way to a door," recalled Harris. "People were stampeding and falling over each other. They didn't have time to take cover.
Darenna is recovering at an area hospital. It's still unclear if her prosthetic leg was damaged in the shooting. Her mom said they would tall with surgeons in the coming days; she expects her daughter to be released by Friday.
"She's talking to us, she's smiling and she's happy to be here," said Harris.
Harris challenge officials in Wyandotte County, where the shooting occurred, to offer more opportunities and events for young people on the weekends to avoid problems.
"These kids really have nothing to do," said Harris. "When I was coming up you had the skating rings, Indian Springs, the Fun factory. They don't have that now. If the parents aren't throwing a fun event, then they out here getting into trouble, which makes no sense.
Harris said there was no security at the rave and believes the target of shooting was rapper Lyndale.
"To my understanding he has enemies; they Facebook funk," said Harris.
KCK Police Chief Terry Zeigler said in a tweet that they believe the shooting may have been gang related. If you know anything about what happened, call the TIPS Hotline at (816) 474-TIPS.