This is an archived article and the information in the article may be outdated. Please look at the time stamp on the story to see when it was last updated.
CLAYCOMO, Mo. – The Clay County Sheriff's Office says it has a suspect in custody for Thursday morning's deadly shooting of a worker leaving Ford's Kansas City assembly plant.
That suspect's name is not being released in lieu of formal charges, nor are details of the arrest.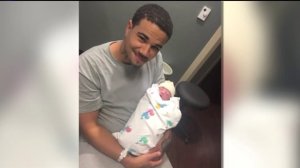 Brandon Nunnally was shot in the parking lot of the Ford plant in Claycomo at about 4 a.m. The father of three had just welcomed a baby daughter into the world six weeks ago.
The plant chairman for the United Auto Workers union says this is the first time anything like this has happened at the Claycomo assembly plant.
The deadly shooting has shaken some employees — who believe this crime has exposed a much larger issue of lax security at the plant.
One employee talked with FOX 4's Katie Banks on the condition that we hide her identity to protect her job.
"And especially knowing that you can lose your life, just getting off work. I am pretty sure this man thought, 'I'm tired. I'm going to get off. I'm going to cuddle with my baby.' I guarantee you, he never thought that he was going to die," the employee said.
But Nunnally will never return to work or reunite with his family.
"It's upsetting. It's scary. It's nerve-racking," the employee said.
The deadly shooting is raising questions about Ford's overall security at the plant.
"Anybody can freely come onto our property. And then you get to the gate, and if you don't have your badge, you just push a button and they let you right in. Things need to be changed," the employee described.
Local UAW 249 president Eric Hall says the plant is monitored.
"We have security here at the plant and they drive through the lots all the time," he said.
But he admits things could improve, and says employee safety was a big topic Thursday when talking with Ford representatives.
"It hurts any time you lose a brother or sister and in the union we're all brother and sister. Change will come from something like this. We'll go to battle to make sure our members feel safe," Hall said.
Until those discussions happen, Hall says Ford has promised to move guards to plant entrances and added an off-duty police officer to help patrol the parking lots.
The employee who spoke with FOX 4 said that wasn't apparent following the shooting.
"We've beefed up security? I just got off. There was not one security guard in that parking lot," she said. "Give us just some reassurance that it's okay, everything will be okay. Because you hear about it all over the world, you do. You just never think it's going to happen to you and this was a wake up call for me."
The situation has left her feeling uneasy at her workplace, and wondering if Ford will step up when it comes to safety.
"Every member of UAW genuinely cares about each other, I will say that. And we can't say that about Ford caring about us."
Earlier Thursday the plant manager said they have well-lit parking lots with security cameras, but it's unclear if Ford is willing to add more security measures, as a spokesperson did not return FOX 4's call for comment.