This is an archived article and the information in the article may be outdated. Please look at the time stamp on the story to see when it was last updated.
KANSAS CITY, Mo. — An Independence man has been charged in a deadly stabbing that happened on March 15, Jackson County Prosecutor Jean Peters Baker announced on Monday.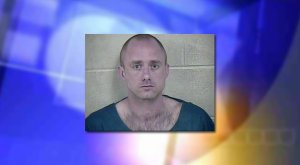 Jared M. Witthar, 32, faces 2nd degree murder and armed criminal action charges in the stabbing that killed Theresa Christman.
Court records state that on March 20, police were called to a report of a body found in a wooded area of Sheffield Park.
Police discovered the body of Theresa Christman with multiple stab wounds. Christman had been missing for days.
Investigators found traces of the victim's blood in her vehicle, as well as a knife in the park.
Investigators detected Witthar's DNA on the handle. Blood on the blade was determined to be Christman's.
Court documents state that on March 15, Christman told an acquaintance she was going to meet Witthar, her ex-boyfriend. The acquaintance told police she didn't want Christman to see Witthar, due to violent incidents in the past.
Prosecutors have requested a $250,000 bond.