This is an archived article and the information in the article may be outdated. Please look at the time stamp on the story to see when it was last updated.
KANSAS CITY, Mo. — Prosecutors have charged a suspect in a shooting Sunday morning at a Kansas City church that injured one man.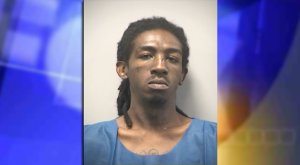 Orlando L. Gentry, 29, is charged with 1st degree assault, armed criminal action, unlawful possession of a weapon, unlawful use of a weapon, and a misdemeanor charge of unlawful use of a weapon for carrying a loaded firearm into a church.
Church service was interrupted Sunday morning at the House of Refuge Family Worship Center near Hillcrest and E. 109th Street when a man began arguing with the pastor. The dispute escalated to the man pulling a gun. That's according to the church greeter, Montell Bruce, who was injured when the gunman fired shots, one of them grazing Bruce's head.
"He was actually mad at the pastor. I think he wanted financial help," Bruce explained.
He said the suspect, who had visited their church before, kept arguing with the church's pastor and kept demanding money.
"He did threaten the pastor. He told him after church, 'me and you, one-on-one,'" Bruce recalled.
Authorities on Monday arrested Gentry, although his family had a different account of what happened.
His sisters said he wasn't the one firing shots, and that he was the one being attacked.
"It was like five or six other guys standing behind the pastor, and they was like 'we can do this now, what y'all trying to do?'"said Myesha Gentry.
She believes the men had been planning to attack her brother, and says a man ripped her shirt and almost hit her in the melee. She says soon after bullets flew in her brother's direction.
However, several church members claim he's the shooter.
Prosecutors requested a bond of $100,000.