This is an archived article and the information in the article may be outdated. Please look at the time stamp on the story to see when it was last updated.
GARDNER, Kan. — Authorities have made an arrest in connection with the death of a 2-year-old girl in February.
Lindsey Thomasson was taken into police custody Tuesday morning, charged with first degree murder in the death of Presley Kay Porting.
Investigators said they were called to the home near Hickory and Kansas streets on Feb. 7 on a report of 2-year-old who wasn't breathing. They said the little girl was transported to a nearby hospital and pronounced dead a short time later.
Thomasson lived with Presley and her father at the time. Police said Thomasson was engaged to Presley's father at the time, although the engagement has since ended.
Police at that time were only calling it a "death investigation."
The day after the toddler died, investigation crews were seen returning to the residence wearing gloves and going in and out of the home, leaving with what is believed to be evidence inside envelopes.
An official cause of death has not yet been released.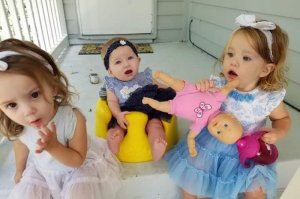 Thomasson is currently being held at the Johnson County jail with a $2 million bond.
Presley's father, Nick Russom, set up a GoFundMe page, where it says that since the investigation he has lost his home, his job, his vehicle, and has also lost custody of his other two daughters.
Previous coverage: