This is an archived article and the information in the article may be outdated. Please look at the time stamp on the story to see when it was last updated.
KANSAS CITY, Kan. -- The Justice Department announced on Friday, June 9th, that a grand jury had indicted Adam Purinton, 52, the suspect in the February 2017 deadly shooting at Austins Bar and Grill  on hate crime and firearm charges.
In addition to the new hate crime charges, Purinton is also charged with one count of first degree murder and two counts of attempted murder in connection to the shooting that killed Srinivas Kuchibhotla, originally from India, and an employee of Garmin in Kansas City.
The indictment for the hate crime accuses Purinton of shooting and killing Kuchibhotla because of his race, color, religion or national origin. Likewise, the indictment accused Purinton of attempting to kill Alok Madasani because of his race, color, religion or national origin.
Ian Grillot was also a victim in the shooting. He said he saw two men he knew as regulars of the bar being harassed by Adam Purinton and escorted Purinton out.
"'You're gonna stick up for them, and not me?'" Grillot recalled Purinton saying. "And that's when I kind of knew what he was insinuating."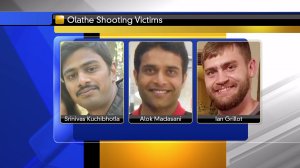 That insinuation Grillot understood to be about the color of Srinivas and Alok's skin.
Grillot said when Purinton came back to the bar about 30 minutes after he was kicked out, he was wearing "a scarf or something over his head trying to conceal his identity."
The two Indian men were clearly Purinton's targets as he opened fire. Grillot said.
A third indictment accuses Purinton of violating a federal firearms statute.
The FBI defines a hate crime as "a criminal offense against a person or property ... motivated by an offenders bias against a race, religion, disability, sexual orientation, ethnicity, gender or gender identity."
Hate itself is not a crime and the FBI is mindful in protecting people's freedom of speech and other civil liberties, but if investigators find a murder or violence occurred because of the above mentioned qualifiers, they often ask for federal hate crime charges.
See the entire press conference with Ian Grillot and his doctors here.