This is an archived article and the information in the article may be outdated. Please look at the time stamp on the story to see when it was last updated.
OLATHE, Kan. — After pleading guilty on Friday to a violent Prairie Village home invasion of an elderly couple, Joseph Shultz, 30, was told he will learn how long he'll spend in prison when he returns to court on November 16th.
A year ago, just before daybreak, masked men broke into the Prairie Village home occupied by the Douglas family. The burglars took a revolver, jewelry, cash, a safe and other items.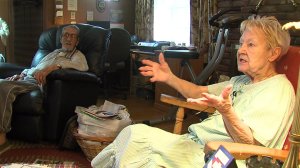 "When they turned on the bedroom light, they were standing at the foot of the bed with their guns pointed at us," Elaine Douglas told FOX 4 in November 2016.
At the time, Elaine was 89-years-old, and her husband was 99. They said they didn't understand why anyone would target them.
"I haven't done anything because all I can think about was those two guys going through everything and seeing everything they've done," she said.
At the time, police said it was not a random act.  During their investigation, police obtained traffic camera footage showing the possible suspect vehicle. They also received surveillance camera footage from a neighbor's front porch.
Police arrested Schultz in Arkansas and brought him back to Kansas, where he's been held on $100,000 bond.