This is an archived article and the information in the article may be outdated. Please look at the time stamp on the story to see when it was last updated.
[protected-iframe id="b79524a0f8b64c14e39789ec8bf60b23-28016812-78417489″ info="http://player.ooyala.com/iframe.js#pbid=7f13b2020e924f7bb1bc00c770ee5d24&ec=hqMjRhczqtwpN22_plk4GPiajrdS09ww" width="770px" height="433px"]
SAN DIEGO (AP) — Police say they have arrested a man suspected of shooting a San Diego sportscaster.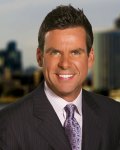 Police spokesman Scott Wahl says 54-year-old Mike Montana surrendered to police shortly before 10 p.m. Tuesday after a SWAT team surrounded a residence in El Cajon (cuh-HONE') northeast of San Diego.
Police had called Montana armed and dangerous and said he was wanted in the shooting of Kyle Kraska, a sports anchor for San Diego's CBS affiliate who was shot outside his home several hours earlier.
Kraska's station, KFMB, reports that he had surgery and is expected to recover.
Police have not said what relationship Montana and Kraska have, saying only that Montana left Kraska's home in a van with a painting company logo on it.