This is an archived article and the information in the article may be outdated. Please look at the time stamp on the story to see when it was last updated.
LEAWOOD, Kan. — Court documents show Eric Kaplan, a Blue Valley North graduate arrested on Tuesday and accused of stalking, was released from jail early Saturday morning after he was charged with a second stalking crime.
Last week, police arrested Kaplan after a woman called to say she was being followed by a man in a mask from a Price Chopper in Leawood.
Police say when they searched his car they found a ski mask and marijuana.
The teen was released on the conditions that he is under house arrest, but before his release police took a second mug shot of him, this one with shorter hair.. The second woman came forward after she heard about the first report. She told FOX 4 that her incident happened before the other woman's incident. She said a man, who she now believes was Kaplan, followed her from a McDonalds restaurant to her workplace.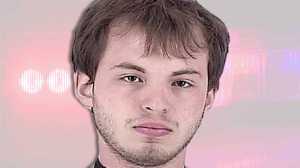 "My hope is that now that two women are coming forward this isn't just a random act that you know he has been out there doing this," said one of the women.
She did not want to be identified.
Kaplan was said to be a rising star in the jazz community in Kansas City and was considered an excellent musician. His facebook page said he planned to attend the Conservatory of Music at UMKC.
FOX 4's Gia Vang spoke to a director of an ensemble that Kaplan was a part of last year. He said Kaplan's skill level on the piano is far above what it normally is for a person his age.
"I guess I have a hope that it's not true," he said.  (Hear more of his comments in her report in the video player above.)