This is an archived article and the information in the article may be outdated. Please look at the time stamp on the story to see when it was last updated.
OVERLAND PARK, Kan. — A Dallas woman says a threatening Facebook comment from a now former Overland Park police officer terrified her. That officer was fired on Friday afternoon.
The Texas woman says she has no ties to Kansas and can't figure out why this man targeted her.
FOX 4 talked with Lanaydra Williams on Skype on Friday afternoon. Before Thursday night's post, she'd never even heard of Overland Park.
"I received a notification from a name I didn't know," Williams recalled.
She said she didn't get any sleep overnight, but it's not just because of the deadly law enforcement ambush that happened in Dallas.
"It's not okay. Not my child, she's all I have. India is my heart, that's not right. We're already on edge, so why would you do that?" Williams asked.
Just before midnight, she saw a comment on a picture of her daughter that had been public on her Facebook for more than two years.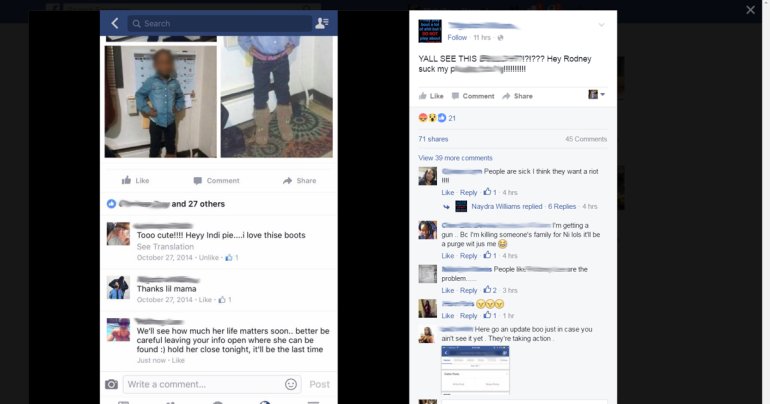 That comment from a complete stranger listed as Rodney Lee Wilson. A click on his page revealed he was an Overland Park Police Officer.
"I don't know anybody from Kansas," Williams said.
Williams says Overland Park police initially told her Wilson's account was hacked. She wasn't buying it.
"Why would he go out of his way to delete it?" she asked.
The mother found no comfort in the distance between Wilson and her 5-year-old.
"Let's say he does lose his job. How do I know he won't come and retaliate? How do I know that? I don't," Williams said before news broke of Wilson's termination.
As she waited to learn more about why this happened, how this man found her, and what prompted his post, her main focus is on little India.
"She doesn't know anything about this messed up world," Williams said.
Williams cherishes her daughter's innocence and plans to protect her.
"Maybe I'll just say he was one bad cop. Not all of them are like that. I don't think she'll think they're all like that either way. She loves police," Williams said.
She said Overland Park Police Chief Francis Donchez Jr. called her to apologize. Overland Park police wouldn't comment on the investigation details or whether anything might have prompted Rodney Lee Wilson's post, but FOX 4 did learn that Williams' profile picture was a person dressed in black holding a knife to a police officer's throat. Williams did confirm to FOX 4 that Facebook deleted her account.
The department released this statement: