This is an archived article and the information in the article may be outdated. Please look at the time stamp on the story to see when it was last updated.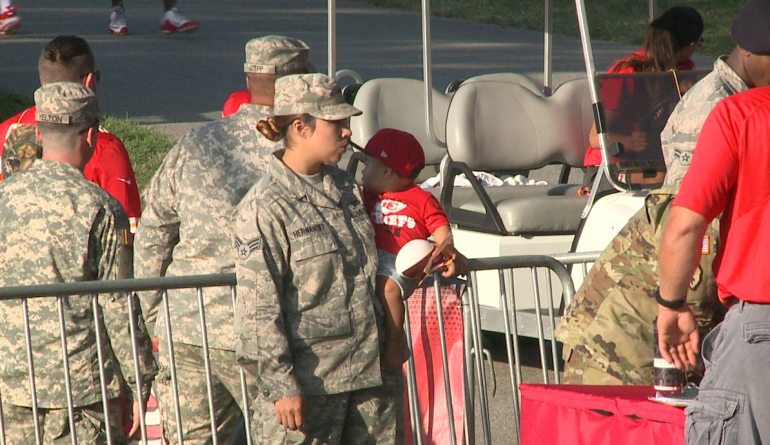 ST. JOSEPH, Mo. — The Kansas City Chiefs hosted members of the U.S. military at training camp Thursday for  Military Appreciation Day.
The Chiefs and Mosaic Life Care provided VIP treatment to invited members of the armed forces, including soldiers stationed at local installations throughout Chiefs Kingdom such as Ft. Riley, Ft. Leavenworth, Whiteman AFB and Rosecrans Reserve ANGB.
On closing day of Chiefs Training Camp, the Chiefs players and coaches invited the military guests onto the field to interact with them.
"I'm excited. I love football. I play fantasy football every single year so I'm so excited to be able to meet them, probably going to feel short, but I'm really excited to have the opportunity to be out here today…. I grew up as a Colts fan, but being around the area I'm starting to like the Chiefs," said Cpl. Elizabeth Fitch from Bel Air, Maryland, who is stationed in Leavenworth.
"I love Leavenworth. I love the army," she said.
Sgt. Summer Woode, another military guest to Chiefs Training Camp said she's been going to games with her uncle and aunt since she was 7-years old.  Sgt. Woode is originally from Atchison, Kan., but is stationed at currently at Fort Bliss, Texas in El Paso. She's been working at Fort Leavenworth; perfect timing for Chiefs Training Camp.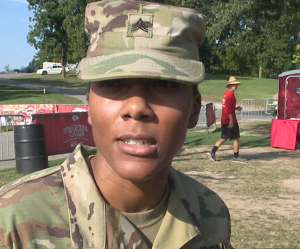 "I remember the Nigerian nightmare, so yeah, I'm a fan," said Sgt. Summer Woode.
Sgt. Woode has been deployed to Afghanistan and Latvia.
"It's a big morale booster," she says of watching football when she's overseas.
"There's some big rivalries overseas. But we all know it's all fun and games. We're out there trying to get the mission done but I would definitely say some of the rivalries, like I've been out there during Super Bowl time. It's fun 'cause you get free pizza but it's definitely a good time."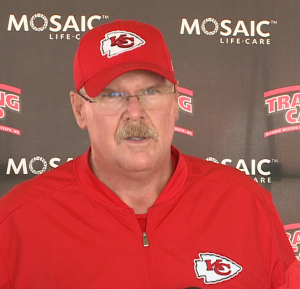 "We appreciate the military first of all… and all they do for us so we can do our job. They got the tough job and we get the benefits of that. We got a great country. We're lucky to live here," Coach Andy Reid said in a news conference.
"For me especially being local in the area, it's very exciting. It definitely shows they appreciate our services just like we appreciate the services they give to the community. You have Jamaal Charles who always give back to the community. It's good to see him out there. We're just hoping for a great season," Sgt. Woode said.