This is an archived article and the information in the article may be outdated. Please look at the time stamp on the story to see when it was last updated.
KANSAS CITY, Mo. -- Brother Guy Consolmagno SJ has spent most of his life studying the heavens. He looks up and wonders what's out there, both in the physical universe and beyond.
Consolmagno has managed to balance his studies of astronomy and theology, and has authored more than 200 scientific publications along with popular books such as "Turn Left at Orion" and "Would You Baptize an Extraterrestrial?"
He has hosted science programs for BBC Radio 4, appeared on The Colbert Report, and has penned a monthly science column for the British Catholic magazine, The Tablet, for more than ten years, according to his biography on the Vatican Observatory website.
On Tuesday, Consolmagno visited Rockhurst High School to speak to the students about his astronomy research, as well as his own faith journey.
"My message really, was to not be afraid to dream. My message was to not be tied to what you think you're supposed to be doing, but rather what you think you really want to be doing," he said.
Consolmagno now serves as the director of the Vatican Observatory, a position he took over in September 2015. He has conducted research at the observatory since 1993 with the Vatican's 1.8 meter telescope in Arizona.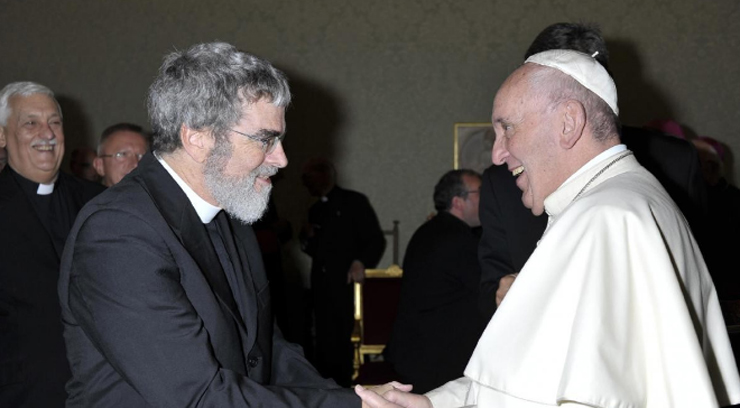 At Rockhurst, he told the students about his struggles early in his college years.
"I was afraid to do research because I was unhappy doing research back in my days at MIT, back in my days at Harvard," he recalled.
But through it all, Consolmagno was able to focus on his passions. While some may argue that science and religion are at odds with each other, he reminded the students at Rockhurst that you can follow your dreams, whatever they are, and still maintain your relationship with God.
"If you don't learn to dream, and you don't know how to interpret your dreams, then you won't know really what it is that God wants us to be."