This is an archived article and the information in the article may be outdated. Please look at the time stamp on the story to see when it was last updated.
KANSAS CITY, Kan. -- "I still just feel awful thinking about it."
It was a brazen break-in. A KCK neighborhood is on edge after several cars were rifled through, and two of the vehicles were stolen.
Neighbors on Bristow Street are still trying to wrap their heads around what happened early Wednesday morning.
One alarming fact: the thieves busted into one home while the residents were inside sleeping to steal the keys.
FOX 4's Kera Mashek spoke with residents in that neighborhood to learn more.
Investigators there are hoping these images might crack the case.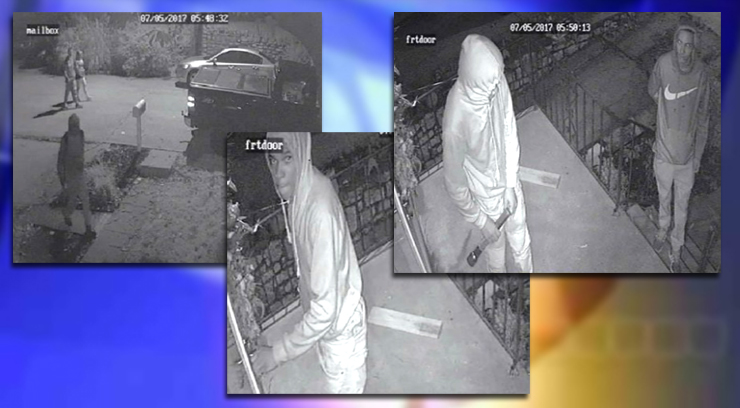 Home security cameras caught three people rifling through cars before allegedly breaking into home next door.
The residents are now speaking out, hoping to prevent someone else from becoming a victim.
Neighbors along this quiet street in KCK are still trying to process what happened here early Wednesday..
Elizabeth Cook said her roommate walked outside in disbelief. Their cars -- a black Acura MDX and a silver Kia Soul -- were not in the driveway.
"It's just a crappy thing that happened, and just really hope that they can get caught and it doesn't happen to anyone else," Cook said.
The keys were inside a basket by the front door which was locked.
So the thieves somehow broke in while the women were asleep and stole their car keys, then drove off. The stolen cars have since been found:
Update: stolen cars recovered. Acura was wrecked. #KCK PD still searching for suspects.

— Kera Mashek (@KeraFox4KC) July 6, 2017
Eric Trembath lives next door and caught the thieves on camera.
"It is really brazen to know that you can have somebody walk into somebody's house.," Trembath said.
After he heard what happened, he decided to take a look at his security camera footage.
"Found these lovely pictures of them coming to my front door trying to break into my house," Trembath said.
He said the video also shows them rifling through several cars on the street.
Now these neighbors are hoping someone will recognize these three, and turn them in.
"If they did it to us, they'll do it to somebody else.   And that's why I came forward, because people need to know who they are," Trembath said.