This is an archived article and the information in the article may be outdated. Please look at the time stamp on the story to see when it was last updated.
KANSAS CITY, Mo. — Sunday was supposed to be one of the happiest days for Tarah O'Brien and her family. Instead, she said she's struggling financially and personally after thieves broke into her car and stole her debit cards and more; worst of all, her dentures.
Tarah was at Research Medical Center to visit her new grandbaby. That's where the break-in took place. Hers was one of a number of car burglaries outside the hospital over the weekend.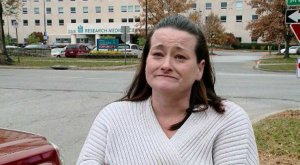 "I was here visiting my very brand new granddaughter. Very first grandchild, and was super happy to see her," Tarah said.
But by the time Tarah walked outside, her joy turned to shock.
"I got down the street and realized my glovebox was open and I thought that was odd. I realized my wallet was missing. I came back and found two security guards at the spot where I was parked," she recalled.
Thieves got away with Tarah's debit cards, damaged her 9-year-old daughter's textbooks, and stole Tarah's dentures. She has required the dentures after she lost her teeth to an autoimmune disease.
"As a small business owner, my image is really important to my clients and to networking, and it really is frustrating to now have to face my clients and friends, even just strangers on the street," she said.
It's a loss that is affecting her both financially and personally.
"You're looking at almost $1,000 to get them replaced," she said.
"My daughter said 'it'll be okay, mom. I love you and you're beautiful and you're brave and we'll do it.' And then she tried to hand me all of her pennies which I really appreciated," Tarah said through tears.
Tarah said she's faced her share of struggles in the past, so she'll just continue to do what she always does: keep fighting.
"Keep fighting. Keep trying. I mean, it's not the first time I've been in a bad situation, and I'll just keep my head up."
Research Medical Center issued a statement on Sunday's incident:
Patient, visitor and employee safety and security is one of our primary goals at Research Medical Center. To that end, we partner closely with our security personnel and execute a robust security program to provide a safe campus, 24 hours a day, seven days a week. This includes highly – trained security personnel, video equipment, unmarked cars to monitor parking lots and ongoing safety drills.  We are aware of a vehicle break-in on campus over the weekend and are partnering with security and the police to investigate the matter.