This is an archived article and the information in the article may be outdated. Please look at the time stamp on the story to see when it was last updated.
COLUMBIA, Mo. — Threats have fueled fear and angst at the University of Missouri, forcing the closure of some businesses and changes in class schedules.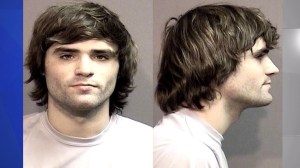 This week's protests over race relations and a shakeup at the top has made the university a target to one Missouri man. Prosecutors say threatening posts on social media site Yik Yak led to a Missouri University of Science and Technology dorm in Rolla. Officers arrested 19-year-old Hunter Park, who now faces a charge of making a terroristic threat. He was taken to the Boone County Jail.
Students posted screen shots of the threats on social media. At first the warnings were vague: "Don't go to campus tomorrow." But then, they escalated: "I'm going to stand my ground tomorrow and shoot every black person I see."
Despite Park's arrest, students and some businesses took the threats seriously. The university put out an alert that it's operating on a normal schedule, but several restaurants are closed and some classes were changed.
When freshman journalism student Kyra Haas came to the University of Missouri, she had no idea she'd learn about headlines as they unfold right in front of her.
"This morning on campus it's been kind of post-apocalyptic," Haas said.
Haas put up a picture on Twitter of one of her classes Wednesday morning.
3 min before my 500-person lecture this morning.only about 50 kids showed up. pic.twitter.com/SNjv2wpOSQ

— Kyra Haas (@kc_haas) November 11, 2015
"Professors have been like, if you don't feel safe, you can stay home," she said.
Haas believes it was Park's social media threats that made so many people uneasy.
"The fear and hysteria kind of took over from there, so I think now there is probably something we should worry about," she said.
The campus Starbucks, a yogurt shop, and the Campus Bar And Grill put up signs on the doors, letting students and faculty know the businesses were closed Wednesday.
"A lot of people have been calling into work saying they don't feel safe. I know Starbucks closed," Haas said.
Campus officials put out this online alert, saying: "We want you to know we are here and are focused on your safety and well-being."
Some teachers are planning to use all of this as a learning point.
"We're not moved, we are just careful. We've been at work, we just moved our space," Professor Stephanie Shonekan said.
Shonekan teaches in the Department of Black Studies. She said the department has received a number of "hateful calls and emails" from people since the department has the word "black" in it. The professor posted on Twitter, letting students know that the department was closed Wednesday.
"We have stood with our students the whole time so we decided that security measures needed be taken," she said.
Shoknekan said her safety and the safety of her students goes beyond her role in the classroom.
"For me, I'm a mother, I'm somebody with a family. I have to take some precaution," she said.
She said she hopes tensions will settle over the next few days and that her students can one day take advantage of these life lessons.
"It has shifted our syllabus a bit, but I think we'll get back on track next week and fold in what we've learned in the last couple weeks. It'll just make us more knowledgeable about what the history of the United States is as it's unfolding," Shonekan said.
The Department of Black Studies classes will resume in their normal classrooms, at their normal times, Thursday.