This is an archived article and the information in the article may be outdated. Please look at the time stamp on the story to see when it was last updated.
OVERLAND PARK, Kan. -- All three major candidates vying for Kansas governor went head-to-head Wednesday in an Overland Park debate, sponsored by the Johnson County Bar Association.
Firm handshakes and civilized conversations shaped up as questions were fired at the woman and two men hoping to lead the Sunflower State.
Each candidate is determined to shake things up -- but in different ways.
"We're on road to recovery. We don't need to take a u-turn," Democratic candidate Laura Kelly said.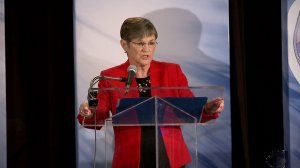 "We can lead again and get back on track or we can continue with the status quo," Independent candidate Greg Orman said.
"Politicians are always making promises and saying they'll do this or that. But results are something different, and I've shown the people in Kansas I deliver results," Republican candidate Kris Kobach said.
With ongoing lawsuits, education funding -- and how we got to where we area -- is a central issue in the campaign.
Kelly and Orman argued the Brownback tax cuts were disastrous and new investments are needed. Kobach said Kansas needs a combination of tax and spending cuts to succeed.
"The best education policy is a growing economy. If we grow our economy, we're going to have the ability to provide for public education in a suitable way without increasing taxes," Orman said.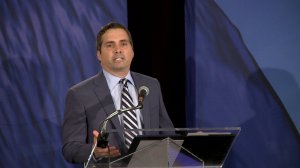 "The economy needs to grow but we look at what happened over these past 8 years to make it stop growing. It was cutting our education system, it was cutting our roads and transportation system and it was not expanding Medicaid.  Those are the kinds of things we've got to do if we're ever going to grow this economy," Kelly said.
"I will reign in spending. Topeka doesn't have a revenue problem. It was a spending problem, and I will solve that problem," Kobach said.
And there are differences in how the candidates say they'd work to balance the budget.
All three agree Kansas should consider allowing sports betting but know it might not raise mountains of cash. Kelly and Orman also think medical marijuana is worth a look, but Kobach said he would not support legalization.
Now, they've got to do the hard work of educating voters on why they're the best choice in November.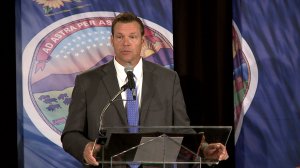 "I think it's time we slam the door once and for all on the past eight years of misery in Kansas.  And I fully believe what Kansas needs now isn't a showboat, but Kansas needs a strong, steady experienced leader who knows where the problems are and already has the relationships established in the legislature," Kelly said.
"Both parties have had an opportunity to solve this. Both parties have had opportunity to put Kansas on the right track and they have failed.  I believe my business background, experience running and managing large organizations uniquely qualifies me to be governor," Orman said.
"I have delivered big changes as Secretary of State and I will deliver big changes as governor.  If  you want someone who's going to move us in a radically different direction, and actually take Kansas so that our taxes are fair again and so we're no longer sanctuary state of the Midwest, then you should vote for the candidate of change," Kobach said.
The three will meet again in another major debate Saturday at the Kansas State Fair.