This is an archived article and the information in the article may be outdated. Please look at the time stamp on the story to see when it was last updated.
HUNTSVILLE, Ala (WHNT) — A small aircraft carrying three passengers crashed near Huntsville International Airport Wednesday afternoon.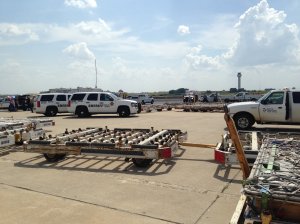 Federal Aviation Administration spokeswoman Kathleen Bergen says a Westwind II aircraft was trying to depart Huntsville International Airport when the plane caught fire with three people on board, but was unsure of the plane's destination.
At a 4 p.m. press conference, Karen Yarbrough, acting PR manager for Huntsville, said the three passengers on the plane all lost their lives.
Flights into and out of Huntsville International Airport are being diverted and delayed while crews work the scene. Yarbrough said the airport should resume normal operations by 4:30 p.m.
There is no word on what caused that plane to crash.