This is an archived article and the information in the article may be outdated. Please look at the time stamp on the story to see when it was last updated.
McLEAN, Texas — Three young friends, including a couple, were overcome as they tried to steer cattle away from the flames of a wildfire in the Texas Panhandle.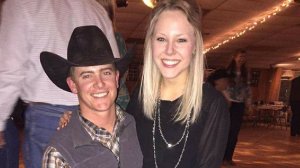 Gray County Judge Richard Peet said Wednesday it appears 20-year-old Cody Crockett was on horseback and his girlfriend, 23-year-old Sydney Wallace, was nearby on foot as fire and smoke swirled around them in Gray County.
Peet says Wallace may have tried to run at the last moment Monday evening but she couldn't escape the smoke. He says she died of smoke inhalation.
Crockett suffered burns, as did 35-year-old Sloan Everett who also was on horseback. The bodies of all three were found close to one another.
A fourth person who died in the Texas Panhandle — 25-year-old Cade Koch — was attempting to drive home Monday night when smoke from a separate fire enveloped him.
Previous story:
The wife of a man killed in a Texas wildfire says the couple had only learned a month earlier that they were expecting their first child.
Sierra Koch says her husband, 25-year-old Cade Koch, was driving home from his job at a hardware store Monday night when he was overcome by smoke from the largest of three wildfires burning in the Texas Panhandle. She described him Wednesday as a hard-working man who "treated everybody with the utmost respect."
A GoFund Me campaign has nearly reached a goal of raising $20,000 to cover funeral expenses for Koch.
Three other people died in a separate fire to the south while trying to usher cattle away from flames Monday evening.
Other wildfires have claimed one life in Kansas and another in Oklahoma.