This is an archived article and the information in the article may be outdated. Please look at the time stamp on the story to see when it was last updated.
OLATHE, Kan. — Beef may be what's for dinner at your house, but it's not on the menu for one metro family — all because of a tiny tick.
"He started to have angioedema around his lips and mouth where they would swell, almost like a cartoon," said Jane Hurtig, whose son Hayden, developed a red meat allergy from a tick bite.
It's known as the Lone Star Tick. Doctors say this type of tick causes people to develop allergies to red meat.
"My stomach was hurting a lot. Sometimes my throat was tingly. My tongue was tingly, and sometimes my lips would get puffy," Hayden Hurtig said.
The 15-year-old experienced random symptoms for years.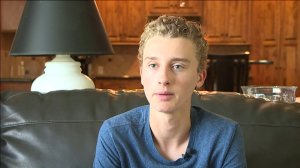 "Sometimes in the middle of school I would have these reactions, sometimes even go home because it was so bad," Hayden said.
At times, he couldn`t close his mouth and had a hard time breathing. His symptoms were getting worse.
Hayden and his parents visited an allergist, a pediatrician, tried certain diets, but they weren`t getting any answers. Until one doctor asked an unexpected question.
"One of the last questions the doctor asked me was, 'Has he ever been bitten by a tick?'" Jane Hurtig said.
She said, of course. Hayden is an active teenager, and they have a family farm.
After all the testing came back, the doctor called her.
"He said, 'Well, your son is highly, highly positive for Alpha Gal,'" Jane Hurtig said.
An Alpha-Gal allergy is a meat allergy. A Lone Star Tick bite can trigger an immune response to something found in beef, lamb, venison and pork.
But in some cases, it can also cause a potentially life-threatening allergic reaction.
"This is not just a food sensitivity or an aversion, if you will. It is a full-blown allergy. He carries an EpiPen," Jane Hurtig said. "The thing that`s unique about this allergy is that the symptoms don`t show up until like 6-8 hours after the kid ingests the food."
If it swims or flies, he can eat it. But Hayden had to eliminate certain meat completely from his diet.
"It was a big relief because finally knowing these allergic reactions would stop finally, I would know what was really the center of the problem," Hayden said.
He said his diet is difficult in some situations, especially social settings, but said there are some positive aspects to it.
"I`m eating healthier," Hayden said.
He said some of his peers are still skeptical.
"I don`t believe you. I`ve never heard of this. Why are you making this up? And they`ll sometimes tease me by throwing a piece of pepperoni at me and saying, 'Here you go. Eat this.' I`m like, no," Hayden said.
Now the Hurtigs want to raise awareness.
Hayden feels much better since changing his diet, and they've became expert label readers.
The CDC has a full list of recommendations on how to avoid ticks and tick-borne illnesses. Find it here.