This is an archived article and the information in the article may be outdated. Please look at the time stamp on the story to see when it was last updated.
TONGANOXIE, Kan. -- It was an unusual Labor Day weekend in the metro's favorite sunflower patch.
They're one of nature's splendors and Leavenworth County's brightest sights. Labor Day weekend is always busy at Grinter's Farm in Tonganoxie since it's about the time Ted Grinter's legendary sunflower crop begins to bloom.
However, the flowers aren't nearly as tall and colorful as they normally are, thanks to a dry summer that hasn't provided enough rain since Grinter planted flowers six weeks ago.
And a small town that depends on flower power is taking notice.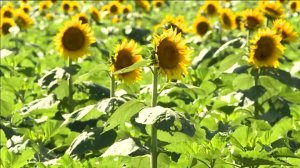 "This year, it's been a little tricky because God didn't cooperate," Kathy Link, operator of Kathy's Kottage, said with a grin Monday.
Link is also one of the founders of the Tonganoxie Sunflower Stroll, a handmade crafting festival that capitalizes on the sunflower's popularity.
She and other business operators said it's hard to quantify the economic downturn they've felt due to sunflowers that haven't bloomed on schedule.
"We have people who come from all around the world to see the sunflowers and to get pictures," Link said. "We all wanted to go out and pour water bottles on it, but that would have taken so much water."
The only advertising Grinter's Farm uses is a Facebook page and, as of Monday, the page has 71,000 followers. Monday was a slower day for the Sunflower Stroll in downtown Tonganoxie, which is about 10 minutes from the farm, but photos show people partaking in the fun during the weekend.
"There were so many cars. It was encouraging to see that many people downtown," Link said Monday.
Dennis Bixby, who owns Bixby Repair in the city's downtown, attended the festival, where he made and sold his popular wood carvings. He's also a former Leavenworth County commissioner, who said downtown businesses depend on traffic from the farm.
"What we're trying to do is develop a town identity," Bixby told FOX4. "Why can't we get together for happy things and celebrate our town with a community-minded spirit? We do, and we're a little community. We're a great community."
Bixby also said there's a new retail location opening soon that sells honey, and the bees who made it likely do their work at Grinter's Farm. Farm staffers said they expect the flowers to catch up once more rain arrives, which means they could bloom off and on for the next month.