This is an archived article and the information in the article may be outdated. Please look at the time stamp on the story to see when it was last updated.
TOPEKA, Kan. -- The suspect who shot and killed two Topeka police officers Sunday night is dead. Following the shooting at Dillons grocery store where the two officers were shot, police were involved in a standoff with suspected shooter David Edward Tiscareno, 22, at a home in near 3rd and Western in Topeka.
Police said after about 90 minutes, Tiscareno exited the house and fired a shot. Officers returned fire and Tiscareno went down. A canine unit dragged Tiscareno onto the porch where officers apprehended him. He was transported to an area hospital by ambulance where he later died.
On Sunday, Police Chief Ron Miller said 50-year-old David Gogian, a supervisor with the department, and 29-year-old Jeff Atherly, an officer, were both shot when they responded to a call Sunday evening.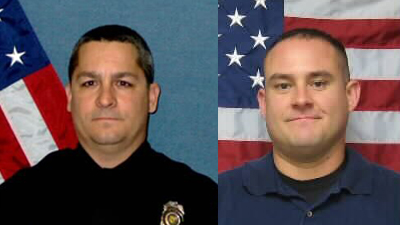 Miller said an officer was called to the Dillon's on SW Huntoon for a suspicious vehicle around 6 p.m. It's not clear which officer responded initially. He said two other officers were called in to assist.
Miller said gunfire erupted and both Gogian and Atherly were hit. Both suffered head wounds and died later at the hospital. Miller said the third officer on scene was taken to headquarters, as standard procedure.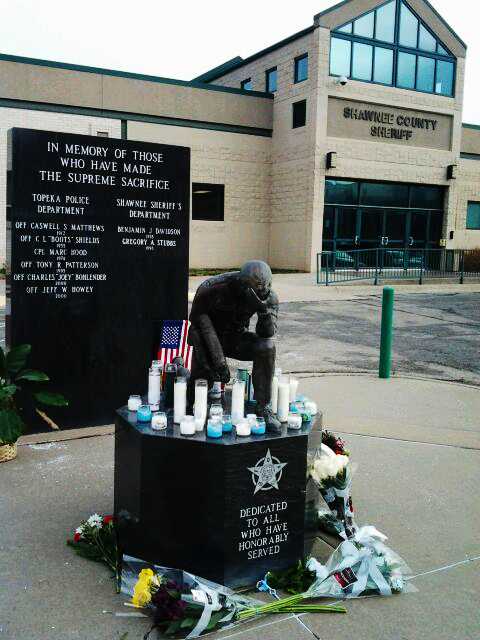 Miller said they believe Tiscareno pulled the trigger, who has a known criminal history.
Police said Tiscareno was in the car with multiple people, but police said they are not looking for any other suspects.
Officers have executed search warrants at various locations in the city, including the 400 block of SW Buchannan where the suspect car was located.
Miller said Gogian was a supervisor with the department and was with the department for eight years. He describes Gogian as a man of honor, who also spent some time in the military. Miller said Gogian's son is also a police officer with the department.
Miller said Atherly was a stand-up officer who was with the department for 18 months. Miller said the department is deeply saddened by the loss of their fellow colleagues.
He said there will be resources available for anyone in the department needing support.
Friends, family and community members gathered in front of the police department holding candles and saying prayers for the fallen officers. Many of them were involved with the Fraternal Order of Police Auxiliary.
The Shawnee County Sheriff's Office is now leading this investigation.
A memorial fund has been set up for both David Gogian and Jeff Atherly. To donate, send a check payable to the Topeka Police Credit Union, 320 S. Kansas Ave., Topeka, Kan., 66603.