This is an archived article and the information in the article may be outdated. Please look at the time stamp on the story to see when it was last updated.
PARKVILLE, Mo. — Police identified the tree trimmer who was electrocuted in Parkville, Mo., on Monday as Carlos Enrique Gomez-Escobar, 35.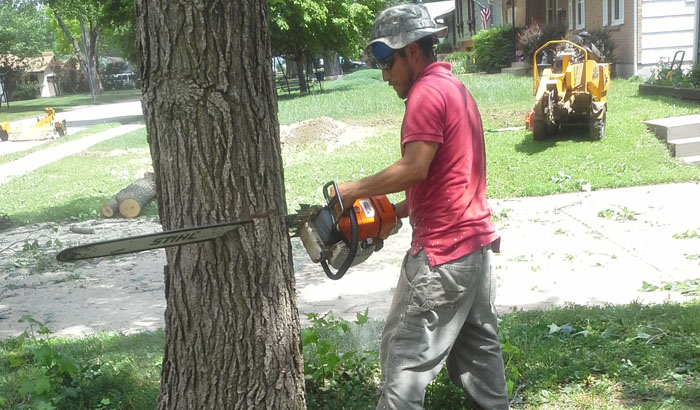 Gomez died Monday morning when the strap that held him to the tree became loose and a metal piece hit a live wire, electrocuting him. Gomez worked for a private tree-trimming company.
He was at a residence near North Rock Garden Rd. and Highway 9 with two other workers and was approximately 35 feet high in the tree when the accident happened.
A home owner had hired them to trim a tree after a branch had become caught on the wire.
I.V. Whitman, a neighbor, was outside and walking to his car when he heard screams.
"I just heard a screaming person," he said. "A male voice and it was the kind of screaming where you knew something was wrong."
Whitman ran down the street and saw two workers beneath the tree, crying and in apparent shock.
Whitman walked up closer and saw a man hanging from the tree, still strapped to it.
Whitman quickly called 911. When police, firefighters and KCP&L arrived, Whitman says the electrical current was still running and says the tree had caught fire. Authorities estimated the man was killed by approximately 7600 volts of electricity.
I.V. Whitman and a woman who lives at the home tried to comfort the Escobar's two co-workers.
"She had a rosary in her hand and was saying the rosary with one of the Hispanic gentleman and just trying to console him," Whitman said. "My wife and I were trying to console both of them as well. I mean when you're in a situation like that there's only so much you can do."
According to the Tree Care Industry Association, last year there were 158 occupational tree care accidents reported nationwide, with 79 of them resulting in death.
The average age of the victim was 40.