This is an archived article and the information in the article may be outdated. Please look at the time stamp on the story to see when it was last updated.
WINSTON, Mo. — A Trenton police officer who was shot while transporting a prisoner in Daviess County is in critical condition, officials say.
The Missouri Highway Patrol said the shooting happened just after 3 p.m. as the officer was taking the prisoner to St. Joseph for a mental evaluation.
The suspect has been identified as 35-year-old Jamey A. Griffin. He suffered a gunshot wound to the hand and is in stable condition at a hospital.
Sgt. Jake Angle said the Griffin was restrained but was able to initiate a struggle over the female officer's gun inside the vehicle.
The Trenton officer was shot in the abdomen. She was taken by helicopter to an area hospital.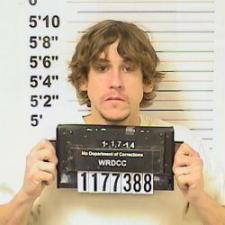 The Daviess County Sheriff's Office said the shooting happened near Winston, Missouri, on 69 Highway. The officer's vehicle came to a stop in the parking lot of a Pit Stop gas station in Winston.
Griffin was facing city charges for assault currently. He's due in court Tuesday in Grundy County. He has several prior pleas and convictions, including driving while intoxicated, resisting arrest, assault and drug possession.
Neighbors said it's nerve-wracking to think about what might have happened if Griffin got away.
"It would've been really scary because it was right there. I was right there," witness Reyna Michael said.
Michael caught the aftermath of the incident on camera. See her footage in the video player above.
After emergency responders and officers arrived on scene, Michael said she saw Griffin attempt to run multiple times.
"Every time he would try to get away, they would kind of hold him back down," Michael said. "He kept yelling stuff. I couldn't really make out what he was saying, but he was yelling stuff."
Several law enforcement agencies are still investigating.