This is an archived article and the information in the article may be outdated. Please look at the time stamp on the story to see when it was last updated.
LONDON — A trove of leaked documents made public Sunday reveal how the world's wealthy elite dodge taxes by stashing it in offshore investment funds.
Among those named in the leaks are Queen Elizabeth II, US Commerce Secretary Wilbur Ross, singer Madonna, and U2 front man Bono.
The leaked documents also reportedly show how state-run Russian companies funded large investments in Twitter and Facebook.
The leak, called the Paradise Papers, was revealed when the International Consortium of Investigative Journalists and its dozens of collaborating news outlets on Sunday published investigations related to them. The reporting partners included the New York Times, the Guardian and the BBC.
The project, which is based on more than 13.4 million documents dated from 1950 to 2016, covers a large number of global corporations, government leaders, and prominent people and their use of offshore accounts to avoid taxes or otherwise hide ownership of assets.
The documents have not been independently reviewed by CNN.
The reporting is similar to the Panama Papers, which in 2016 exposed cases involving celebrities and business executives who reportedly moved large chunks of their wealth into offshore tax havens.
Several members of Trump's inner circle, including Secretary of State Rex Tillerson and chief economic adviser Gary Cohn, were mentioned in the papers. The Times, which mentioned both men, said there was "no evidence of illegality in any of their dealings."
The consortium, meanwhile, noted in its reporting Sunday that there are legitimate uses for offshore companies and trusts.
"ICIJ does not intend to suggest or imply that any persons, companies or other entities have broken the law or otherwise acted improperly," it said in a disclaimer posted online.
Journalists with access to the Paradise Papers noted in stories published Sunday that their contents will continue to make news in the coming days.
Here are some of the high-profile government officials and celebrities mentioned in the first wave of reporting.
Commerce Secretary Wilbur Ross
The New York Times reported that Trump's commerce secretary, Wilbur Ross, has retained a multimillion-dollar stake in Navigator, a shipping company whose top customers include the Russian energy firm Sibur.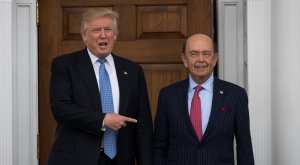 Sibur's owners include a member of Russian President Vladimir Putin's family and a Russian oligarch, according to the Times, which also says the firm itself was created by the Russian government.
Another of Navigator's clients is PDVSA, Venezuela's state-run oil company, which Trump targeted with sanctions this year.
The Times reports that Ross held his stake in Navigator through a "chain of companies in the Cayman Islands."
The Times also says "much" of Ross's wealth, which is estimated to total around $2 billion, is tied up in secretive offshore investments.
When Ross disclosed his finances earlier this year, he included Navigator as a company he intended to retain an interest in. But that document did not disclose how large his stake was because it was not required.
But that won't help Ross escape political controversy.
Senator Richard Blumenthal, a member of the Senate Commerce Committee that questioned Ross before his appointment, accused Ross of misleading the committee and the public by "concealing an ongoing financial relationship" with Russians.
"Inexcusable and intolerable," Blumenthal said in a series of tweets Sunday. "Americans are owed answers on this Cabinet's troubling failure to disclose links to Russian interests."
The Commerce Department told CNN on Sunday that Ross was not involved with Navigator's decision to do business with Sibur.
"Moreover, Secretary Ross has never met the Sibur shareholders referenced in this story and, until now, did not know of their relationship," the agency said in a statement.
It added that Ross recuses himself from matters focused on transoceanic shipping vessels, though he has been supportive of the administration's sanctions against "Russian and other entities."
Twitter, Facebook and Russian money
The Times also reported that two state-run Russian companies secretly and indirectly poured millions of dollars into Twitter and Facebook.
Both of the transactions allegedly involved Yuri Milner, a Russian tech mogul who has business ties to Trump's son-in-law, White House adviser Jared Kushner.
According to the Times, Milner invested in Cadre, a tech real estate company that was founded by Kushner and his brother. Milner told the paper he has only met Kushner once.
Milner's link to Kushner and his company are unrelated to the Russian investments in Facebook and Twitter.
According to the Times, the Russian-owned VTB Bank gave $191 million to an offshore vehicle connected to Milner. Money from that entity was later used to help fund a stake in Twitter.
The newspaper also said the Russian oil and gas company Gazprom lent money to another firm that invested in Milner's multimillion-dollar Facebook deal.
According to the Guardian, Milner said the funding from VTB did not buy it influence at Twitter. He also told the newspaper that he wasn't aware that Gazprom was involved in the Facebook investment.
The Guardian noted that it is not clear whether Moscow saw a "political interest" in funding stakes in Facebook and Twitter, or if the acquisitions were "only intended to make money."
Twitter said in a statement that DST Investments 3 — a fund managed by Milner's company DST Global– was an investor before its IPO.
A Twitter spokesperson told CNN that the company "reviewed all potential investors" before it went public in November 2013.
The company also said that the stake owned by DST Global was divested in May 2014.
Facebook's IPO, meanwhile, was in May 2012. The company could not be reached late Sunday for comment.
But a Facebook spokesperson told the Guardian that the Gazprom-backed investment was ultimately sold five years ago.
Queen Elizabeth II
In Britain, the BBC said it had seen documents that show the Duchy of Lancaster, which provides the Queen with an income, had invested £10 million ($13.1 million) into funds in the Cayman Islands and Bermuda.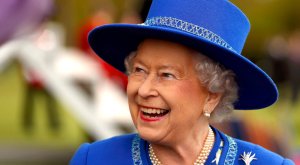 The documents have not been reviewed by CNN.
The Queen has not been accused of any wrongdoing. But the investments are potentially embarrassing for a royal family that closely guards its reputation.
"We operate a number of investments and a few of these are with overseas funds. All of our investments are fully audited and legitimate," the Duchy of Lancaster said in a statement.
The Duchy added that the Queen, who is officially exempt from U.K. tax laws, "voluntarily pays tax" on income she receives from the estate.
The £519 million ($680 million) Duchy, which provides the Queen with an income to cover official expenses, says it invests primarily in commercial, agricultural and residential properties.
In the most recent fiscal year, the Duchy generated £19.2 million ($25 million) in net income according to its website.
Related: What you need to know about the Paradise Papers
One of the Duchy's offshore investments has generated some controversy.
The BBC reported that the Duchy invested $7.5 million in Dover Street VI Cayman Fund LP in 2005. The fund, which invested in medical and tech companies, later put money into U.K. retailer BrightHouse.
The Duchy said its investment in the company is worth £3,208 ($4,200).
BrightHouse, which gave customers credit so they could buy its home furniture and appliances, was later forced to compensate consumers after the U.K.'s Financial Conduct Authority found it was not a responsible lender.
"We sincerely apologize to those customers who were affected," the company said in October. "We're absolutely determined that this doesn't happen again and have made significant improvements over the last 18 months."
The Duchy said in a statement that the investment in BrightHouse was made "through a third party," and equates to just 0.0006% of the Duchy's value.
The ICIJ noted in its report that "there are legitimate uses for offshore companies and trusts," and it was not suggesting that any people or companies it named either broke the law or acted improperly.
David Pitt Watson, an executive fellow at the London Business School who focuses on responsible investments, said he "very much" doubts that the Queen knew where her money was invested.
Instead, she's like "so many others who have a pension, or an investment account," he said. "We just don't know what is being done with it."
Bono
The papers suggest U2 frontman Bono used a company based in low-tax Malta to buy part of a shopping mall in Lithuania.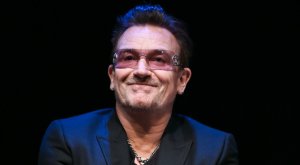 The Guardian newspaper said Monday that the papers reveal that the singer was an investor in Maltese company Nude Estates, which bought the Ausra shopping center in 2007.
Bono's spokeswoman told the paper that the rocker, whose real name is Paul Hewson, was a "passive minority investor in Nude Estates Malta Ltd., a company that was legally registered in Malta until it was voluntarily wound up in 2015."
The Irish band, well known for its poverty-fighting efforts, has faced past criticism over its tax arrangements.
U2 was heavily criticized in 2006 for moving its corporate base from Ireland to the Netherlands, where royalties on music incur virtually no tax.
In 2011, protesters inflated a giant balloon reading "U Pay Tax 2?" during U2's set at the Glastonbury Festival.
The Ausra shopping center is located in the town of Utena, some 100 kilometers (62 miles) north of Lithuania's capital, Vilnius. The 3,700 square-meter (40,000 square-foot) mall was built in 2006 and sold to unknown foreign investors in 2007.
Its management has told reporters they were not aware Bono's involvement in the property's ownership.
Tax officials in Lithuania said Monday they've started to investigate papers and documents belonging to UAB Nude Estates 2, a Lithuanian registered company owned by Nude Estates Malta Ltd. and listed as the mall's owner.
Ruta Asadauskaite, spokeswoman for Lithuania's state tax inspectorate, declined to provide further details.