This is an archived article and the information in the article may be outdated. Please look at the time stamp on the story to see when it was last updated.
KANSAS CITY, Kan. – Police say they have been removing truckloads of stolen items from four different homes involved in a possible theft ring.
Police were seen removing several items from inside a house located at 17th and Wavery in Kansas City, Kan. on Monday afternoon. The residence, which is one of four homes officers have raided since Friday, contained around $70 thousand worth of suspected stolen goods. Police say they have recovered a total of over $100 thousand worth of stolen items so far.
Police suspect the items may be stolen building supplies, and part of a major property theft ring. When officers entered the door to the home, they discovered other doors, in addition to brand new bathtubs, windows, and household fixtures, many of which were still in the manufacturer's wrappers. One officer was overheard making the observation that there were possibly enough items recovered inside the house, which is being renovated, to build another house.
"It`s apparently been going on for some time. We're still looking into more leads and more property, if there is any more at whatever location it might be stored at," said patrolman Patrick McCallop, with the Kansas City, Kan. Police Department.
Police said some of the stolen property has already been returned to its owners.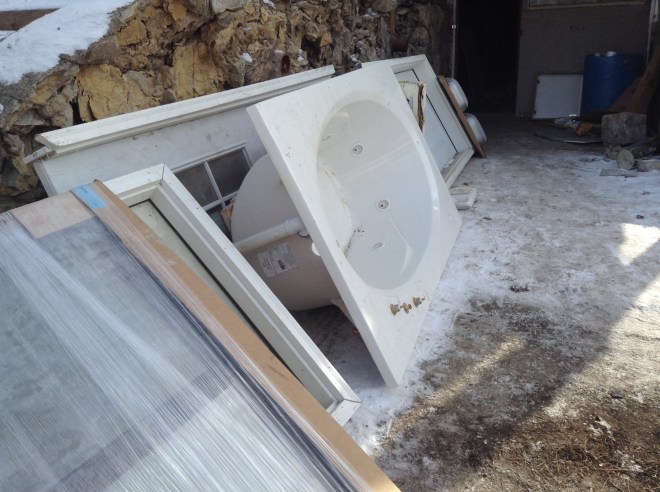 "It's part of an ongoing investigation," said McCallop.
The stolen items were being stored less than a block from northwest middle school where Marilyn Thompson picks up her grandchildren five days a week. She says having crime so close to a school is reason for concern.
"It do (sic) concern me here in my neighborhood, especially when there are kids and it`s close to the school," said Thompson.
"This close to a school, we definitely don`t want any kids to be involved in something like this," said McCallop.
Police said they know who is behind the thefts, but they haven't made any arrests yet.