This is an archived article and the information in the article may be outdated. Please look at the time stamp on the story to see when it was last updated.
WASHINGTON — Pres. Donald Trump is the first president in 150 years not to have a pet in the White House.
Bo and Sunny, the Obama family's Portugese water dogs are two of the most famous dogs in the country.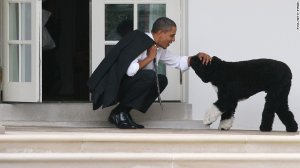 Bo came first; then Sunny.
John Quincy Adams once had a pet alligator.
Calvin Coolidge had a bobcat, a hippo, lion calves.
Theodore Roosevelt had a one-legged chicken.
Herbert Hoover had a dog he called King Tut.
Buddy, Barney, Liberty, Him and Her, are a few of the names of White House dogs through the years.
Will Pres. Donald Trump get a pet for his family?