This is an archived article and the information in the article may be outdated. Please look at the time stamp on the story to see when it was last updated.
OVERLAND PARK, Kan. — The bodies of two people were discovered overnight Wednesday in two different locations and it's suspected they may be that of a missing 18-year-old woman and the man later seen driving her car after her disappearance.
One body was discovered at Hillcrest and 83rd Street.  Police went there to search after receiving a tip about a Facebook post from a man about dumping the body of Mikayla Norris there. Police have not confirmed that it was Mikayla's body they found there, but did confirm finding a body.
'After an extensive search by land and air, a body has been located in a wooded area,' said Darin Snapp, Kansas City, Mo. police spokesperson.
The other person was found dead in Liberty behind Academy Sports and is the man police believe was driving her car after her disappearance. They say he died from an apparent gunshot wound.
'We are investigating the deaths as possible murder/suicide,' Snapp said.
Mikayla Norris, 18, didn't show up for work Monday at Jack Stack Barbecue in Overland Park. A flyer from Kansas Missing and Unsolved said she was believed to be going to a party  Sunday in Independence and her last text said she was hanging out with friends.
Later, an unknown man was spotted driving her car.
After seeing reports about the missing woman's car, a witness took pictures of the the man filling up the gas tank at a Gladstone QT.
But the witness quickly figured out it wasn't Norris filling up her car at the Gladstone QuikTrip, and the man didn't seem happy about her trying to see if anyone else was in the car.
"In the process of doing that, the person who was driving the vehicle at the time got suspicious and started approaching our witness and acting like maybe he had a gun," Captain James Sutterby with Overland Park Police said.
These surveillance photos show the driver of that car paying for gas with cash. He was in the store for only about 15 seconds. And police say there's no indication Norris was in the car.
Family tell police she always checks in with them and is posts regularly on social media, but hasn't now since her disappearance.
"Somebody who she doesn't know is in possession of her vehicle and in a place where she normally wouldn't be at, so there's several things that causing us a little bit of concern in this case," Sutterby said.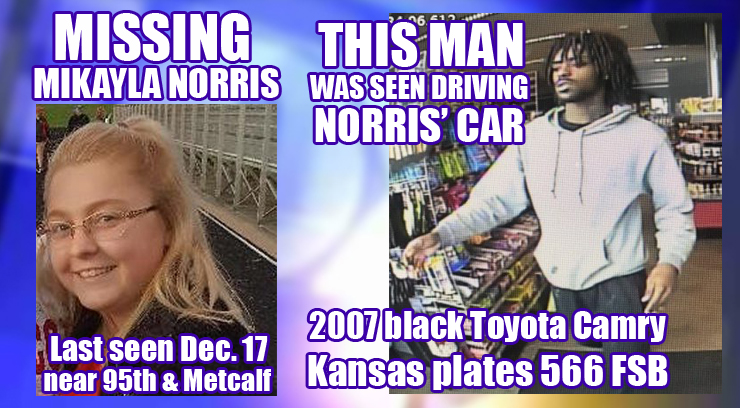 If you have any information about Mikayala's disappearance, you are urged to contact the Overland Park Police Department at 913-344-8721.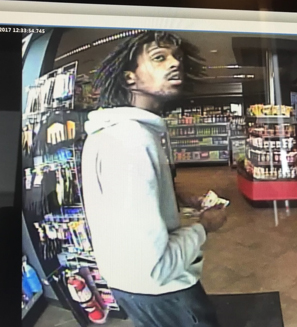 Mikayla was last seen in a 2007 black four door Toyota Camry bearing a Kansas licenses tag of 566 FSB.