This is an archived article and the information in the article may be outdated. Please look at the time stamp on the story to see when it was last updated.
WARRENSBURG, Mo. —  Already charged with abandonment of a corpse after the body of a baby boy was found in a Warrensburg cave in March, a 19-year-old woman now faces an additional charge of Murder in the Second Degree.
Police say Latasha Wilson gave birth to a baby boy on or about January 29, in the bathroom where she worked. Neighbors told FOX 4's Megan Brilley that Wilson was working at Warrensburg's Walmart.
According to the medical examiner, the baby was born alive in the toilet. Prosecutors say Wilson waited too long to remove him from the water and did not seek medical attention for him.
For months, Johnson County, Mo. Prosecutor Lynn Stoppy had been hoping this death was accidental. She got the call in March. The process was a long one for the medical examiner but he found it was no accident.
"There was a lot of degradation done, decomposition of the body. He was set on fire. A lot of different body parts had to be sent off for analysis," Stoppy said.
The baby was approximately 18 1/2 inches long when he was born. Police say after about three hours, she wrapped the baby in paper towels and carried him out to her work locker, where she stored his body. Then she took him to Pertle Springs Recreation Park and left the body in a cave found on March 4.
When police discovered the body at the Pertle Springs Cave they said the corpse had been there for some time. Stoppy said the grand jury that indicted Wilson had no issue getting to the murder charge and are very passionate about this case.
"He was born alive, and because of the actions or in actions of this woman, he would be alive today," she said.
Court documents indicate that Wilson admitted she had been pregnant and gave birth to the baby boy in January of 2014. At some point after the delivery she said both she and friend Zakary Carter discovered the baby was deceased. She then told investigators that she and Carter took the baby boy's body to a cave at Pertle Springs and left the body there.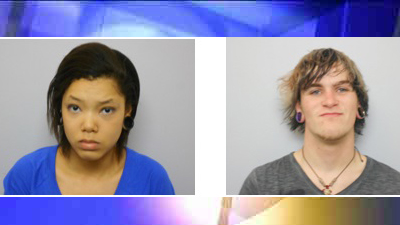 Carter, 20, has been charged for tampering with physical evidence because he allegedly returned to the cave after the pair had left the body. He's accused of burning the body in an attempt to destroy evidence.
The punishment for Carter currently stands at a prison term not to exceed four years and/or a fine not to exceed $5,000 if he is convicted.
Wilson's murder charge has a range of punishment of ten to 30 years in prison.
Previous Coverage: