This is an archived article and the information in the article may be outdated. Please look at the time stamp on the story to see when it was last updated.
KANSAS CITY, Mo. — The Kansas City, Missouri Health Department said on Monday that within the last week, food inspectors have responded to two fraudulent food safety complaints made at Kauffman Stadium.
They remind people that deliberately reporting false claims wastes taxpayer dollars.
"Kansas City's Health Department performs thousands of inspections each year, and each complaint is taken seriously," said Naser Jouhari, Environmental Health Services Division Manager. "The reporting of deliberately false claims does a disservice to our entire community and wastes taxpayer dollars."
In one case, someone who called themselves "Andrew" sent a tweet to the Health Department's Twitter account and posted a photo of unsafe food allegedly served at Kauffman Stadium. Further investigation determined the photo was lifted from an unrelated Florida news story and falsely represented as food served at Kauffman Stadium.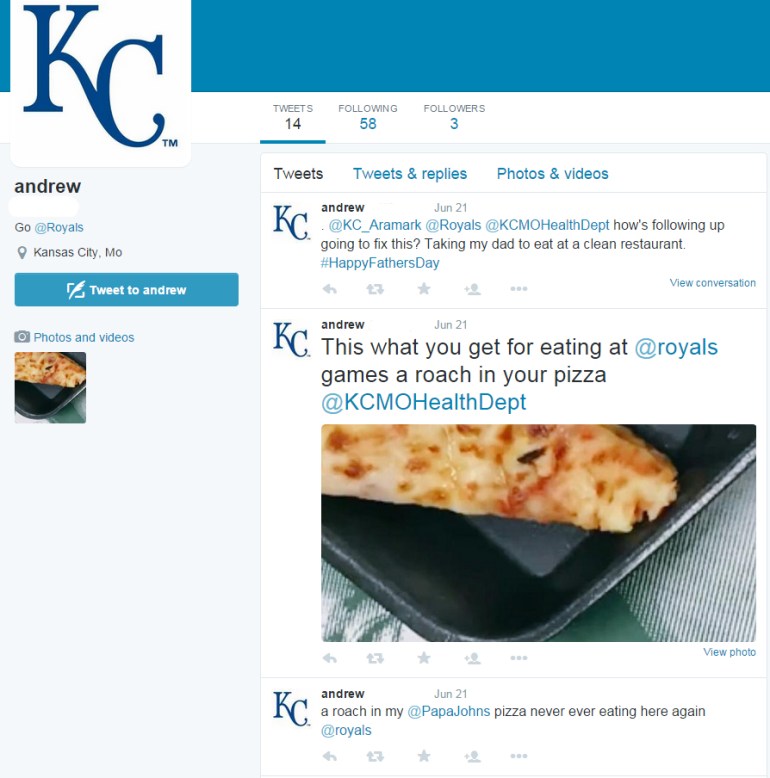 Aramark, the concessions provicer at Kauffman Stadium responded to "Andrew" on Twitter, telling the individual they'd like to follow up. Aramark wanted to know the section, row and seat number to send an investigator. (Scroll down to see that 'conversation'.)
Aramark says this attempt and other attempts to undermine their efforts is "troubling."
Aramark has recently addressed complaints that the food they serve is poor quality and unfit for the public.  Many were especially displeased with the food they bought at "Buck Night."  After one "Buck Night", some posted photos of supposedly moldy and burned hot dogs posted to social media.
Carl Mittleman, Aramark's president, says his company has never failed a health department inspection at Kauffman Stadium since taking over concessions in 2007. He says the hot dog in question didn't look moldy to him, but instead said it looked like char from the foil the food was wrapped in.
In the second case, an individual contacted the City's 311 Action Center impersonating an Aramark food service employee to report supposed safety issues. The Health Department uncovered the false claim when following-up with the employee; in this case it was discovered that the person's identity was deliberately misrepresented
"Food safety is our highest priority and the Kansas City Health Department continues to be supportive of our safety program and practices," said Carl Mittleman, President of Aramark's sports and entertainment division. "We respect the Health Department's obligation to follow up on complaints; however, we find the nature and timing of multiple attempts to undermine our efforts to be very troubling. We are committed to the highest standards of food safety and our employees work hard to ensure those standards are achieved."
The Kansas City Health Department continues to make regular inspections at food handling facilities within Kauffman Stadium. This year, the Department has made 10 visits and conducted 147 inspections; the most recent inspection at Kauffman Stadium occurred on Friday, June 19, as a follow-up to a complaint received by the Health Department. The results of this inspection and all previous inspections can be found online.
Complaints about any food safety issue may be submitted to the Action Center at 3-1-1.  Concerns about food establishments can be submitted anonymously.