This is an archived article and the information in the article may be outdated. Please look at the time stamp on the story to see when it was last updated.
LINN COUNTY, Kan. — Two Kansas school administrators are facing charges after they allegedly failed to report abuse and neglect.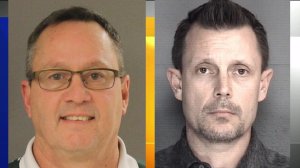 Tim Weis and Chris Kleidosty are both charged in Linn County with two counts of failing to report abuse and neglect to the Kansas Department of Children and families in connection to alleged incidents that occurred between Dec. 15, 2014 and May 16, 2016.
Weis is the principal at Prairie View High School and Kleidosty is the superintendent for Tonganoxie.
Kleidosty was suspended with pay Tuesday night. Tonya Phillips is now serving as the interim superintendent for Tonganoxie schools.
The Tonganoxie School District issued the following statement Tuesday in regard to the charges:
Superintendent Chris Kleidosty was arrested this afternoon by the Leavenworth County Sheriff's Department on a warrant issued by Linn County for failing to report abuse from an alleged incident which occurred at Prairie View School District USD 362 years ago.
The USD 464 Board of Education has suspended Mr. Kleidosty effective immediately with pay and pending further board action. Mrs. Tonya Phillips has been appointed as the interim superintendent.
The safety and well-being of our students is always our highest priority. The Board of Education is committed to transparency and will continue to keep our patrons informed.
In June 2016 prosecutors charged former Prairie View High School teacher Keaton Krell with 20 counts of unlawful sexual relations with a student. The incidents Krell was accused of occurred between Jan. 5, 2014 and Jan. 10, 2016. The district and prosecutors have not confirmed if these were the alleged crimes Weis and Kleidosty are accused of not reporting.
Weis will make his first appearance in court on March 15. Kleidosty does not have a hearing scheduled, yet.