This is an archived article and the information in the article may be outdated. Please look at the time stamp on the story to see when it was last updated.
KANSAS CITY, Mo. — Two men died in an officer-involved shooting Thursday afternoon near the Barney Allis Plaza in downtown Kansas City.
Police said at about 5 p.m. officers were called to the scene where two men were fighting over a golf cart and a gun.
KCPD Capt. Lionel Colon said when officers arrived, they were shot at, so they returned fire. Both men died in the shooting.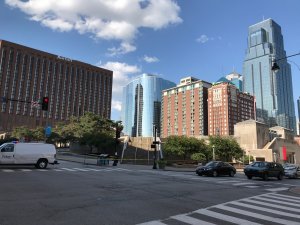 FOX4 spoke with a witnesses at the scene.
"At first it looked like it was a harmless fight," witness Matthew Sinno said. "At one point you saw the guy take out a weapon, and it looked like he was pistol whipping the other guy."
But that confrontation turned deadly after police were called to the busy Barney Allis Plaza right across from the KC Convention Center where thousands of teachers were in town grading AP tests and numerous people looked down from their hotels.
"Someone yelled shooter, so we all rushed to the windows. The police had drawn their guns, and the active shooters were coming from close to the convention center, so they were meeting in the middle basically," witness Madison Wolff told FOX4's Kara Mashek.
Witnesses say they heard several gunshots and saw both men fall to the ground. They watched as police worked feverishly to save one of the men, but both ended up dying at the scene.
"When I started watching they were rushing over to the two individuals," Wolff said. "One was on the ground and confirmed dead because they weren't touching him. The other one, they started doing CPR on for about 5 minutes. We watched that whole thing unfold, thought they were going to save his life, and they just stopped."
The Kansas City Convention Center was put on lockdown, and it was lifted at about 5:30 p.m. There were approximately 2,000 educators at the convention center who were grading AP tests.
"It's unfortunate, but I do know we have a duty to protect the citizens of this city, and that's our job and that's what we have to do," KCPD Chief Rick Smith said.