This is an archived article and the information in the article may be outdated. Please look at the time stamp on the story to see when it was last updated.
KANSAS CITY, Mo. — Jackson County Prosecutor Jean Peters Baker announced first degree murder charges against two more men for the May 31, 2015 fatal shooting of 3-year-old Amorian Hale. Sulif Wilkins, 26, and Dominque Marchbanks, 24,  are now charged along with Sir'Terry Stevenson for killing Amorian in a drive-by shooting in the 6700 block of Walrond.
According to court documents, Marchbanks was in Stevenson's car when witnesses say he leaned out and fired a high-powered assault rifle at the home where Amorian was sleeping. Prosecutors say the shooting was in retaliation for a January 30, 2015 shooting that left D'Shawn Marchbanks dead.
Court documents go on to say that Wilkins was an associate of people in the home that was shot, and learned on May 30 that they may be involved in the shooting that left D'Shawn Marchbanks dead. He was also said to be living at the home.
Phone records show that Wilkins talked with Stevenson the night before the shooting that killed Amorian, the morning of the shooting, and prior to the shooting. He allegedly was at a nearby home, and on the phone with Stevenson during the shooting.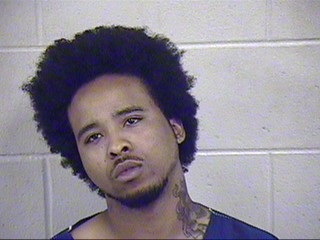 Dominque  Marchbanks denied involvement when questioned about the shooting, then said, "I don't give a ****" when he was told that a 3-year-old was killed.
In addition to murder, all three suspects are charged with unlawful use of a weapon and two counts of armed criminal action. Prosecutors have requested bonds of $1 million apiece for Marchbanks and Wilkins.
Marchbanks is currently serving a three-year sentence in the Missouri Department of Corrections for felony possession of a controlled substance. Court records show that on February 17, a motion was filed for him not to be released from custody on probation related to that conviction.
Stevenson remains in custody and has a jury trial scheduled to begin on April 25.