This is an archived article and the information in the article may be outdated. Please look at the time stamp on the story to see when it was last updated.
KANSAS CITY, Mo. -- Police said a man and woman are dead after being hit by a wrong-way driver overnight Friday. Loved ones said the married couple were on their way home from Harrisonville when they were hit and killed. Police said it happened on Interstate 49 at I-435.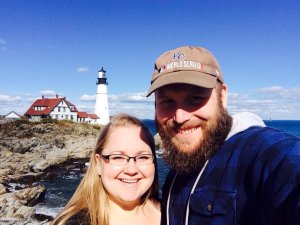 The victims were identified as Ryan C. Humphrey, 31, and Laura E. Humphrey, 29, of Kansas City.
Investigators said a Chevrolet sedan traveling southbound in the northbound lanes of I-49 collided with the Humphreys' Jeep SUV on I-49 near I-435 around 2:15 a.m. Saturday. The husband and wife were both killed at the scene.
The driver, who was the only occupant of the Chevrolet, was transported to an area hospital and remains in critical condition.
"They were still honeymooning. They had just gotten married; they were in the first year of bliss," said D'Ann Zinn, a close family friend.
Family said the couple was together for almost eight years before getting married. The two were married on April Fool's day, which family said speaks to what kind of sense of humor they had.
"Independently of each other they were absolutely amazing people, together they were unparalleled," Zinn told FOX 4 on Saturday.
Zinn said Laura was a patient web services content producer for Children's Mercy Hospital. They said she had a passion for theater and recently was cast as Dorothy in Wizard of Oz at Gladstone Theater in the park.
"I think that was a lifelong dream of hers to take that stage and get the lead and she was amazing," Zinn said.
Kyle Sutton, who served as the best man in the couple's wedding, said his lifelong friend Ryan had many talents.
"If you were shy he made you feel welcome, he didn't let anybody feel left out," he said.
Family said the couple was excited for their future and had just purchased a home near the plaza.
"I think they did have future plans to have children, they were looking forward to taking those steps and they were, you know, not in any rush but they had a plan," Zinn said.