This is an archived article and the information in the article may be outdated. Please look at the time stamp on the story to see when it was last updated.
KANSAS CITY, Kan. -- Two police officers have been charged in federal court with drug dealing. Both officers are employed by Kansas City Kansas
Public Schools.
The school district says it's surprised by the drug charges against two of its police officers but is quick to point out that the crimes happened in Topeka, not around any of its schools.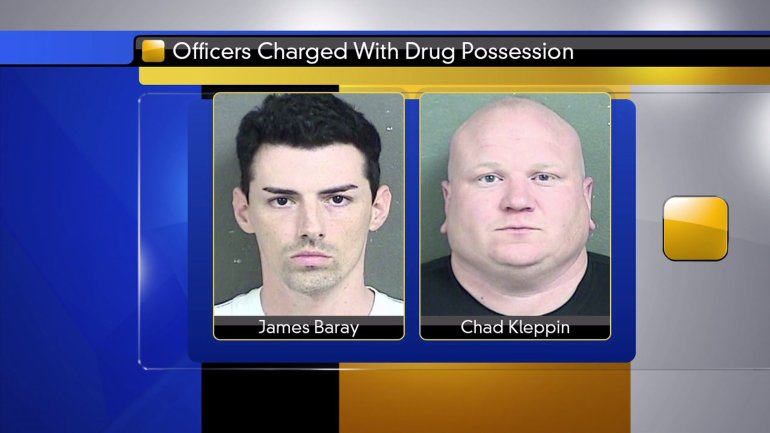 James Baray, 30, and Chad Kleppin, 44, both have been charged with distribution and possession of methamphetamine.
Baray worked with students at Wyandotte High School.
Kleppin was assigned to Fairfax Learning Center, the district's alternative school.
According to the criminal complaint, Baray supplied six pounds of methamphetamine per week to customers, which has a street value of nearly $60,000.
"It's just something that you hate to see happen," said Garland Alders, Baray's neighbor. "But I look at it from this point of view, it's good to get these people off the streets. These people need to be arrested and given their day in court but at the same time they need to be removed from particularly children and being around children and stuff like that."
Alders says he thought it was odd for his police officer neighbor to have three expensive cars: a Mercedes, a Volvo and a Cadillac.
Kansas City Kansas Public Schools have suspended both officers while it investigates the charges. The district says it doesn't have any complaints against the officers from students. And there's nothing that leads administrators to believe the officers were selling drugs to students or dealing on school grounds.
The district says it performs thorough backgrounds checks on the police officers it hires to be in the schools. Communications Chief David Smith says most officers help students stay in school and work with kids to help them graduate.