This is an archived article and the information in the article may be outdated. Please look at the time stamp on the story to see when it was last updated.
INDEPENDENCE, Mo. — Authorities in Independence have charged two people in connection to a burglary and shooting that left one teen suspect dead and a homeowner clinging to life.
Authorities say that the three suspects were allegedly burglarizing the home near 23rd and Ellison Way in Independence shortly after 11:00 PM on Friday when the homeowner returned home and confronted them. Police say that one of the suspects, identified by friends as 16-year-old Dylan Thompson, was shot and killed in the incident.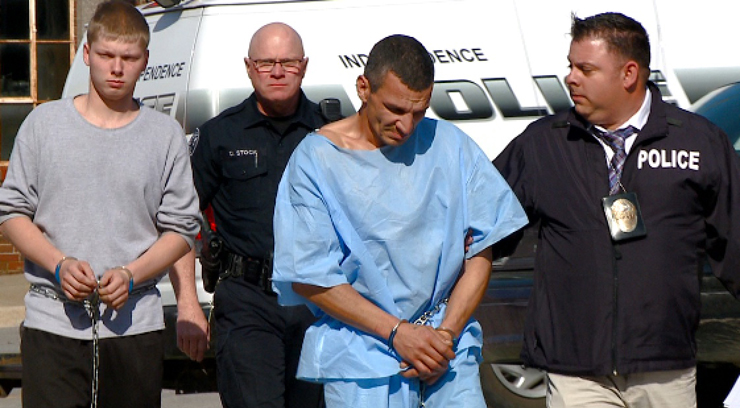 The two surviving suspects, identified as 18-year-old Dustan Donlan and 41-year-old Phillip A. Kisner, have each been charged with one count of second degree murder and one count of burglary.
It's unclear which of the three suspects fired the shots, but prosecutors say that because Thompson's death was the result of the perpetration of a felony, the two surviving suspects now face second-degree murder charges.
According to court documents, Thompson was the son of Kisner's girlfriend.
The homeowner, identified by authorities as Jimmy Faseler, remains in critical condition at a metro hospital. Faseler is an avid Kansas City Royals fan known for his large belly and unique dance skills at Royals home games.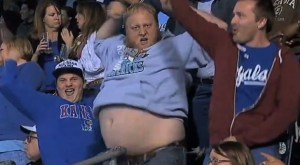 On Sunday, the team let Faseler know they were thinking about them on their Twitter profile:
Thoughts and prayers to our friend and long-time #Royals fan, @jimmyfaseler.

— Kansas City Royals (@Royals) March 22, 2015
Prosecutors have requested a cash bond of $250,000 for Kisner and $100,000 for Donlan.
Friends of Jimmy Faseler say that they will be holding a prayer vigil at the LifeConnection Church at 3883 Blue Ridge Blvd. in Independence at 6:45 Monday evening. All are welcome to attend.