This is an archived article and the information in the article may be outdated. Please look at the time stamp on the story to see when it was last updated.
KANSAS CITY, Mo. --  Kansas City police released pictures on Friday of two women they say are responsible for a robbery at a Metro PCS Store at 99th and Holmes on Tuesday, in which a woman trying to stop them was severely injured.
Aquaries Frazier of Grandview, who works at Metro PCS, went after the women as they fled.  Moments later, she was found outside with serious injuries.
Tammi Outland, an employee at a beauty supply store next door, says her boyfriend was outside at the time and thinks the pair hit Frazier with their car.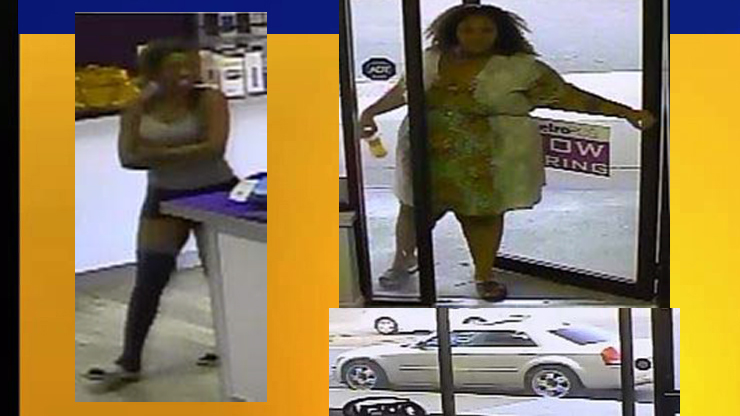 Metro PCS  has surveillance cameras both inside and on the front of the store.  Police reviewed the footage for evidence and on Friday released it to the public for assistance.
"Thank God he was outside.  He actually saw just about everything happen.  He's the one that ran up to my store and said to call 911," Outland said.
When she came to the sidewalk, she saw Aquaries Frazier on the ground, lifeless.
"He said basically she was pushed over the car and ran over.  And when I got to her, she was just kind of curled up in a ball, not breathing, not moving," said Outland.
On Friday, FOX 4's Kera Masheck spoke to Frazier's sister, who said Aquaries' condition has shown some response to medication, but she still does not respond to people, and still has a very long way to go.
Witnesses say the two black women drove off in a gold Chrysler 300.  If you have any information about these women, police ask you to call 816-234-5230 or the TIPS Hotline at 816-474-8477.