This is an archived article and the information in the article may be outdated. Please look at the time stamp on the story to see when it was last updated.
Scattered bricks and broken plates amounted to pretty minor damage considering a record earthquake rattled much of the Midwest.
A 5.6 magnitude earthquake centered in Oklahoma shook several states Saturday morning. The tremors could be felt from Dallas to Des Moines.
The epicenter near Pawnee, Oklahoma saw the most damage. Rocks flew off the more than 100-year-old county bank building there.
Residents of Pawnee said it was a long, violent shake, unlike the short jolts they're used to.
"In my bathroom, all the cabinet doors were open. The drawers were open even in the kitchen. Everything was shaking," one resident recalled.
One minor injury was reported when part of a fireplace fell on a man's head as he protected his child. He was checked out at the hospital and released.
Saturday morning's quake tied for the strongest in Oklahoma's history. The U.S. Geological Survey (USGS) all but predicted it back in March after they noticed the central United States has seen a dramatic increase in the number of earthquakes.
According to a USGS report, the Great Plains felt a yearly average of 24 quakes in the years from 1974 to 2008.
In just the next nine years from 2009 to 2015, that number jumped to an annual average of 318 per year.
And in 2015 alone, the central U.S. experienced 1,010 earthquakes.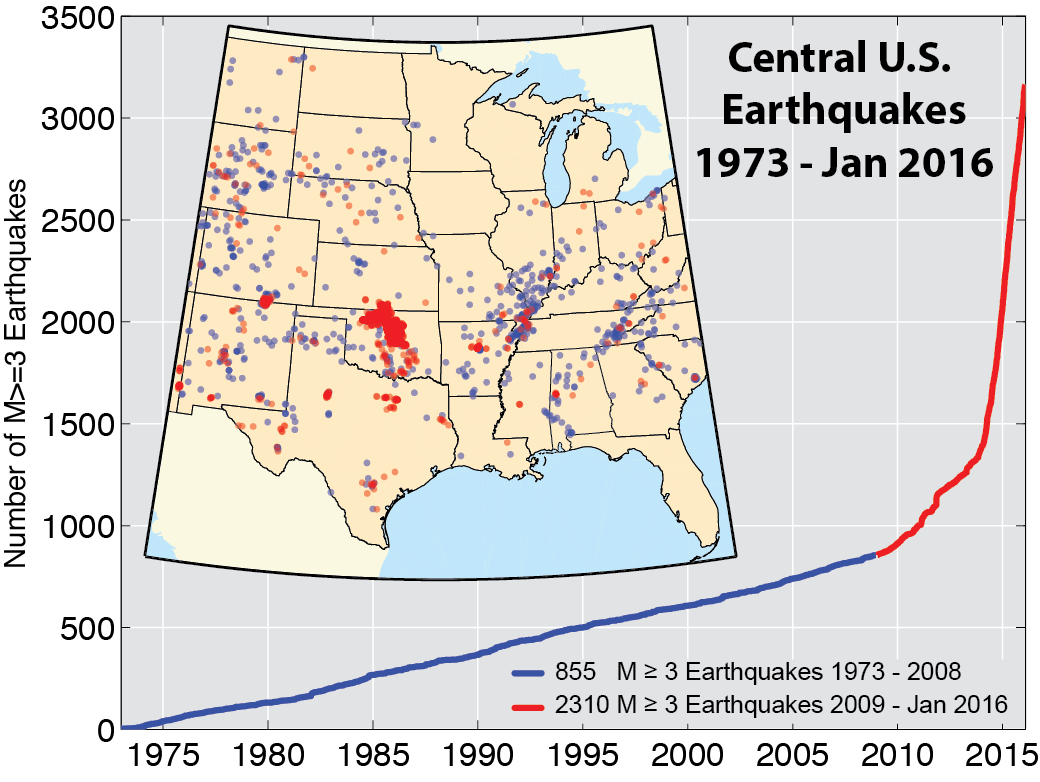 The USGS released a first-of-its-kind map showing that the Great Plains are more at risk of a damaging quake than folks in California. The map identifies risk from both natural and "human-induced" earthquakes.
Many scientists surmise that hydraulic fracturing, or "fracking," is causing the uptick. Fracking is when high-pressure liquid is used to fracture underground rock to release fossil fuels like natural gas or oil.
Saturday Oklahoma shut down the 35 wastewater disposal wells within 500 miles of the quake's epicenter.
As early as March 2015, USGS linked the spike in minor earthquakes to fracking. The Kansas Corporation Commission responded by limiting how much wastewater can be injected into the earth's crust.
Experts noticed a drop in earthquakes in Kansas counties on the Oklahoma border. Just last month, Kansas regulators decided to further restrict those wastewater injections. Oklahoma has added similar restrictions.