This is an archived article and the information in the article may be outdated. Please look at the time stamp on the story to see when it was last updated.
KANSAS CITY, Mo. -- A special United States flag will be part of the final salute for two metro fire fighters. The U.S. Honor Flag arrived in Kansas City on Tuesday. Chris Heilser, the flag's founder, packed the flag securely in a safe and drove it in Tuesday morning from Texas.
He said state troopers accompanied the flag's journey its entire way.
"The flag is a national treasure, so it means a lot to millions of Americans, it means it more to our firefighter families and our law enforcement families," Heilser said.
The U.S. Honor Flag has honored more than 1,000 fallen firefighters, police officers and members of our armed services. Next, it will be with two brave men who made the ultimate sacrifice, 43-year-old Larry Leggio and 39-year-old John Mesh.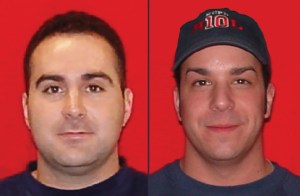 "The spirit and sacrifice of our firefighters who selflessly serve every single day not knowing if they are going to come home, that spirit is what this flag is all about," Heilser said.
It's not the first time the flag has made its way to our area. Earlier this year it arrived to honor an Olathe police officer who had a heart attack and died while preparing for the presidential visit to Lawrence. Officer Michael Kern was a 13-year veteran of the police department.
It was also deployed to Topeka in December of 2012 after two police officers were shot and killed by a suspect.
Heilser said this will be his 165th funeral he attends with the flag. It was gifted to him after the September 11th terrorist attacks.